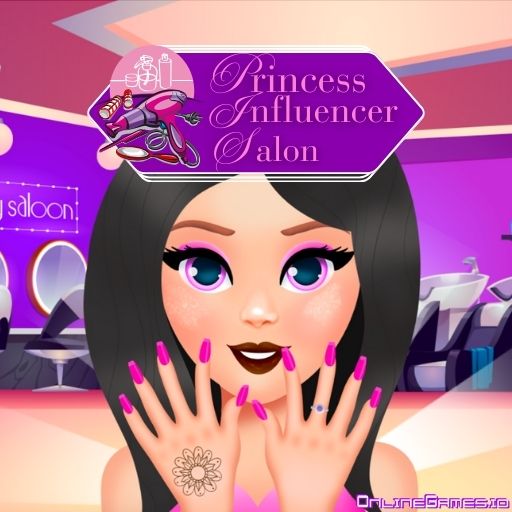 We are dedicating today entirely to skincare and fashion! Princess Influencer Salon is a 2D girl game where you help a princess make her skincare and get her dressed up for a night event or a stay out. You are the expert in this field. That's why she can safely leave herself in your arms. Start with skincare first, then dress her up for the outside!
How to Play Princess Influencer Salon
Transform the princess into the center of attention with your creativity.

Start with a rejuvenating spa session before applying makeup.

Ensure her skin is flawless to enhance the makeup's impact.

Customize her look by selecting the right lipstick, eye shadow, and blush.

Personalize her appearance, including eye color and hairstyle.

Choose from a variety of trendy outfits and accessories.

Get creative with optional tattoos for her hand.
Skincare
There are many masks, serums and oils you can use here. You can use the most effective products that will make her face soft and clean. The cleaner and healthier the face, the better the makeup you apply will look on her face.
Makeup Session
Choose the most suitable lipstick that will suit her lip color. You can find red, purple, light pink, dark pink, reddish pink and brown colors.

After applying lip color, choose eye shadow. It may be nice if the color of the eye shadow matches the lipstick, but more avant-garde things can also be tried.

Then, apply her blush. There are blushes with glitter effects that can make her shine!
Physical Appearance
You have the right to determine some things about the princess' appearance, such as eye color and hairstyle. Push the limits of your creativity to turn her into an influencer! Choose the most stylish and unusual outfits and accessories. You can even get a tattoo on her hand.
Controls
Use your mouse to do the skincare, makeup and dressing up.
What is More?
If you like playing Princess Influencer Salon, you can find a wide range of dress-up games. Look for more game options in the girl games category on OnlineGames.io. Also, give the following games a try. And keep coming back to discover fresh and exciting browser games!
Pets Beauty Salon: You can unleash your inner pet stylist in the Pets Beauty Salon. There are adorable cats and dogs waiting to be dressed up.
Wedding Beauty Salon: You need to make a bride ready for her wedding. This will be a very special day for her. Everything must be chosen and done with care!