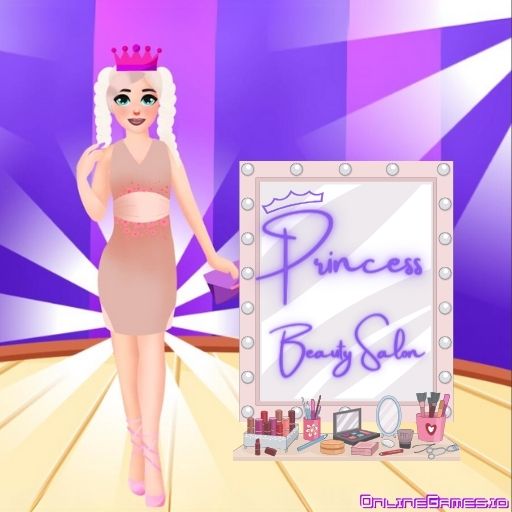 Princess Beauty Salon is a girl game where the player deals with her customer's skincare, makeup and dressing. You are responsible for preparing her for her special invitations. She heads to your beauty salon, trusting your experiences. It's your duty to make her the most attractive woman on the invitations!
How to Play Princess Beauty Salon
Let your creativity flow and create a masterpiece. This is a three-stage preparation process: preparing the skin for makeup, the makeup session and the dressing. The reason why we start with skincare first is to eliminate skin imperfections and provide better quality makeup with porcelain-like skin. Let's smooth the skin of the woman who comes to you by using the highest quality creams, foams and masks! 
Removing the Imperfections
You must bring the face to life! Start with facial cleansing gel and clean the skin thoroughly.

Then, we will use the purple mask to add liveliness and calmness to the face. Purple masks are very important for rejuvenating the skin!

Now it's time for peeling. Give a detailed cleansing using the peeling cream in the green box.

And finally, complete your work here by intervening in the bags under the eyes.
Makeup on Clean Face
You will start your makeup with eyeshadow. Select a shade from green, red, light yellow, black and purple.

Choose lipstick for lips. Here, you will find red, orange, brown, light pink and dark pink lipsticks. Try different lipstick and eyeshadow combos to create looks tailored to your customer's tastes!

At the last stage of the makeup, complete by choosing blush. Our favorite among the blushes here are peach tones.
Physical Appearance and Dress-up
You are now in the final stage of preparation. In this section, you can determine a hairstyle for your customer and then move on to selecting an outfit. Pick a dress for her and complement it with a pair of shoes. Choose a bag as an accessory; finally, after giving your girl her crown, she will be ready!
Controls
Use your mouse click to prepare your customer.
Similar Games
If you are a fan of Princess Games, try Princess Influencer Salon. In the game, you help a princess rejuvenate her skin by applying skincare products and get her ready for a night out or an event. Alternatively, you may look up other online girl games on OnlineGames.io for more options. Enjoy the wonders of beauty and fashion, and let us know what you think of this glittery voyage down below!