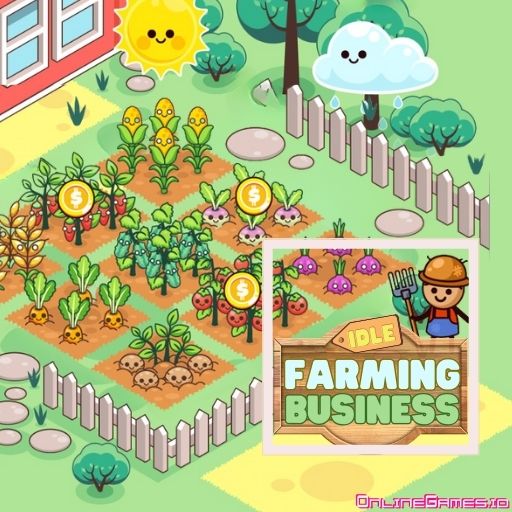 Complete Guide to Become an Expert in Idle Farming Business
Let's see those green thumbs of yours! Plant, fertilize, cultivate and harvest. It is as simple as that. Idle Farming Business is a free 2D idle farming game to play on a browser. Be an idle farmer and grow gorgeous plants without leaving your couch in the Idle Farmer Business.
Kick off a homestead with a small potato land plot. Grow your farming business with various beautiful crops such as carrots, tomatoes, and turnips. Upgrade your plants as you profit from fruitful harvests. Make use of boosts, such as Sunshine and Rain, to increase your output even more. Line up investors to purchase your farm!
How to Play Idle Farming Business?
Start planting one potato crop in your only land plot.

Click on the crop to harvest and gain profits.

Keep track of how much you own and gain per second on the top right of the screen.

As you earn coins, buy new land plots to try brand-new veggies.

Upgrade your land levels to increase your profit on that land. To upgrade your lands, you need to buy new seeds. 

To upgrade a land plot, click on the shovel icon and see how many seeds you can buy from that particular crop. 
Use Boosters to Speed Up Harvest 
In the cart menu, you can also buy boosts to multiply income.

Play some ads to have the weather more sunny, which means an income multiplier in this case.

Click on the cloud, which works as a speed boost by raining on your crops to quicken up the process even more.
Tips, Tricks and Cheats for Idle Farming Business
Some upgrades are more profitable than others. This is because achieving milestones speeds up the harvest. Attaining the 25th, 50th, 100th and 200th levels is crucial because it will fasten the crop growth.

While making an upgrade, click on the star icon to see the most profitable upgrades. This will help a lot in your farming adventure.

Although Idle Farming Business is a clicker game, you can swipe through the plants instead of tapping one by one. This trick will save you time while harvesting.

When you save enough, click on the cart icon to stack your harvests. In this way, you will be able to stack up the crops and sell them at once. 

Tap on the badge icon at the bottom-right corner to claim your reward when you reach an achievement.

As you advance through the game, investments will become more costly. However, we are sure that you will soon solve the farming math and manage your land like a real farming tycoon.

Remember to come back tomorrow to get your daily rewards. They are the biggest gems of this game.

Bonus Tip:

 Do not just try to unlock all land plots at once. Ensure existing plots are at a certain level. Then, get to the next vegetable when you have enough savings.
How to Get Investors in Idle Farming Business?
When you harvest the crops from all plots available, a truck drives by. This means an investor wants to buy your whole plant.

If you accept the offer of the investor to exchange your veggies for new seeds, you will start over in a new land but with multiplied profits.

You can see the number of investors and bonus income by tapping on the leave icon on top right corner.
Can I play Idle Farming Business on my tablet?
Yes, you can. Idle Farming Business is a great game that adopts different screen sizes. Play it on your tablet, mobile, laptop or desktop. It will always offer you smooth gameplay.
Controls
Use your mouse to control your farm on PC

Tap and swipe to manage your farm on tablets or phones
What to Play Next?
We noticed that you have the greenest thumb and might be enjoying farming activities. Why not give a shot to a 3D farming game and keep enjoying nature with not just crops but also farm animals. The Farmer Craft is a perfect game for this. 
Or else, if you are into the management and strategic side of the Idle Farming Business, we have great tycoon games for you. Play Idle Startup Tycoon and Idle Restaurant to learn to generate tremendous income in different sectors. Becoming a billionaire in these games is not that hard. Enjoy!