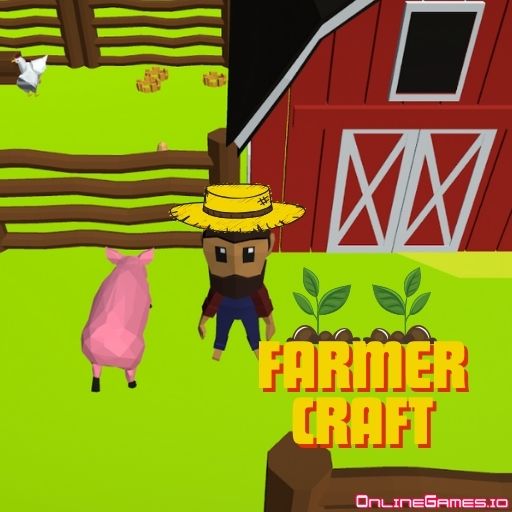 Forget all the other farmer games because you won't find one as fun as this one! The Farmer Craft is a 3D farmer simulator game where you own a farm and live in a forest. As on every farm, there is a lot of work to be done here, and you are on your own! You are a craftsman who creates the necessary tools for himself. Besides making proper tools for you and your farm, you must take care of your animals for annual productions.
How to Play The Farmer Craft
Step into the world of The Farmer Craft, waking up on your own farm with a vast land, a cozy house, and animals that need your care. The responsibility for all farm tasks falls on your shoulders, so let's get started.
Feeding The Animals
You need to take care of your animals so they can give you things like milk and eggs. They are the key points in this game. You need to collect fodder and fill their cribs constantly so that they can feed. They can only provide you with good animal products if they are fed regularly. Do not forget to collect eggs and milk.
Crafting in Farmer Craft
In Farmer Craft, crafting is essential for survival. Access the crafting section by clicking the icon on the right side of the screen, where you can create tools using stones, wood, grass, and other resources you collect. Craft torches, ropes, and experiment with combining tools to create new and more advanced items. Explore the following crafting categories:
Tools

Weapons

Food

Constructions

Props

Wearables
Selling Materials
You can sell the things you produce from animals and other collected materials to other farms and thus earn income. Or you can get what you need from the shop where you go. To do this, all you have to do is take your horse and hit the road.
Controls
Use the WASD keys or the mouse click to move.

Use the Q and E keys to rotate the camera.

Use your mouse to attack, pick up things, zoom etc.

Use the Left click to move items from the inventory.

Use the C key to open the craft section.

Use the ESC key to pause.

Use the Space key to dismount from the horse.

Use your mouse scroll to zoom in or out.
What Is More?
If you like playing this game, you should also give the games listed below a try! Also, keep coming back to OnlineGames.io for a new stream of adventure games.
Mergest Kingdom:

Mergest Kingdom is an online farmer puzzle game. In this game, you need to plant tons of wheat to expand your farmer empire.

Taming io: In

Taming io, you start from the beginning in the jungle with your sole pet. Explore the wilderness and embark on a journey to test your mettle. Don't waste time wandering aimlessly; start crafting, gathering fruit, cutting wood, mining, and making tools right away.