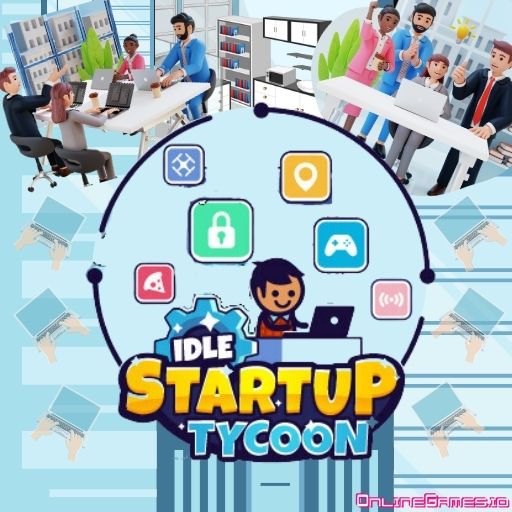 If you are a person who likes to be enterprising, you will enjoy this game. Are you ready to start a company from scratch and grow? Idle Startup Tycoon is a business simulation game where you will invest in your startup idea and watch it grow. You will step into the business world by developing a food delivery app. As your income increases over time, you will undertake more serious initiatives. This is a very clever and meticulously designed game. We are sure you will be addicted to it.
How to Play Idle Startup Tycoon?
There's so much work to be done. Creating something from scratch may be complex. But if you manage it well, you can manage things quickly. Our starting point is the food delivery app. We will create an application here. Then, when we earn enough money, we will move on to the mobile game production phase. Therefore, our earnings will increase in direct proportion to the workload. When you manage to unlock each floor, both your business and your earnings will grow. And the working area where the company works will change on each floor.
You will have employees with different titles working under you here. Such as sales officer, developer and server assistant. As you increase the levels of these employees, you also improve their ability to do business, which is the key to rapid growth.

When you employ a manager on each floor, you can see that your employees work much more efficiently and faster under pressure. When you press the energy symbol above the manager, the floor worker starts moving more quickly. Thus, the worker brings you more money.

You will see the server and the server worker on the left side of the screen. It will constantly move up and down with the working elevator and transmit the money obtained from each floor to the bottom floor. The sales officer will step in and forward the money to the necessary places. You can see this is a team game.

You'll see green arrows on the screen when it's time to level up. When you click here, you can see the leveling fee and how you progress when you level up.
Learn to be a tycoon
Too many work compartments to check increases focus.

Trying to control the whole business improves the ability to manage.

Provides insight into business life and management.
What are the idle games?
Idle games, or clicker games, require minimum effort from the player while playing. For example, you can earn money in the Idle Startup Tycoon even if you are not actively controlling it for the whole time. Progress happens through automated actions in these kinds of games. They also include upgrades throughout the game to increase the accumulated gains while the player is inactive.
Controls
Just use your mouse and tap on the relevant areas you want to perform. When you unlock multiple floors, press and hold the screen and move up and down to see the upper working sections.
Similar Games
You should definitely try Dream Restaurant, where you serve your customers delicious meals and try to expand your restaurant if you enjoy playing Idle Startup Tycoon. Or you can browse other free simulation games by following the link on OnlineGames.io.