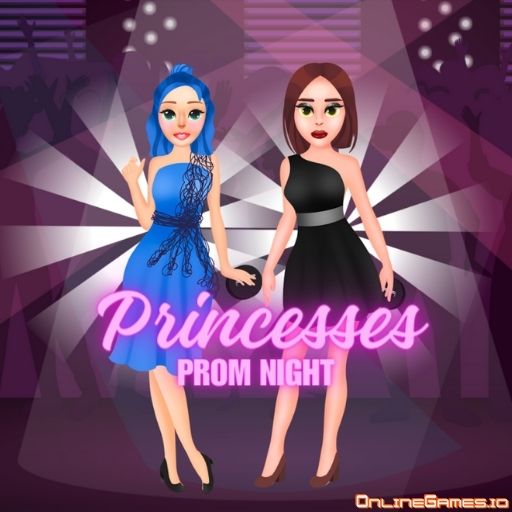 It's your responsibility to prepare the girls for the most important night of their lives! Princesses Prom Night is a girl game where your task is to prepare these princesses for their magical prom night. It's the end of the academic year for the princesses, and the prom night they've been waiting for. Everyone's eyes are on you to prepare them! You are a well-known stylist here. They'll entrust you with their looks and trust you until the end of the night.
How to Play Princesses Prom Night
As the girls arrive at your beauty center, the responsibility falls on your shoulders. Do their makeup, arrange their outfits and get them ready for the night. You have to make their hair glamorous. Stay updated with the latest trends and ensure that each girl shines like a star on this special night!
Doing the Makeup
The most crucial part of makeup is eye makeup. You can start by doing the girls' eye makeup. Choose the most striking color from the color palettes. There are 6 vivid colors: gray, pink, bronze, dark green, blue, and peachy.

Choose a lipstick that will match the girls' eye makeup. Our suggestion is to match eye makeup and lipstick color. Otherwise, makeup may look unmatching. Ultimately, the decision is in your hands!

Then it's time for blush. You can add sparkle to girls' faces by choosing glittery ones among the blush colors offered to you.

Finally, determine the eyebrow shape, color and eye color of the girls.
Hairstyling and Dressing
After completing the makeup, it's time to work on their hair and then comes the exciting task of choosing their dresses. Decide on the dress and choose shoes and bags to go with it. Since it's a prom night, girls will love to stand out. You can make your choice in this direction!
Controls
Simply use the mouse click to prepare the girls for the prom.
Explore Other Games
Try Princess Influencer Salon if you are fond of playing Princess Games. Princess Influencer Salon is another dress-up game where your role is turning a princess into an influencer. For more exciting dress-up game options, explore our collection of Girl Games on OnlineGames.io. Please let us know if you have any suggestions or wishlists in the comment section below!