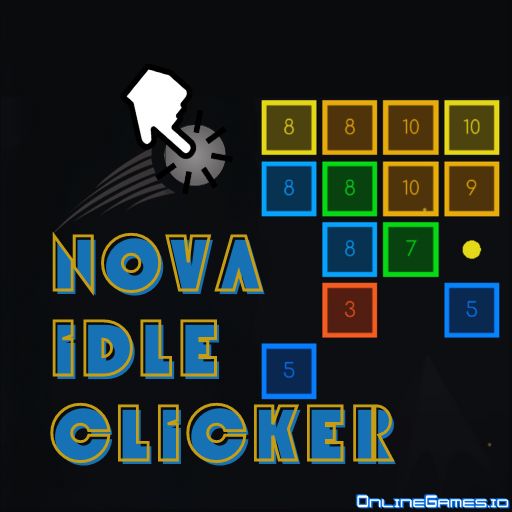 If pong games interest you, let's take you here! We need to keep their spirit alive! Nova Idle Clicker is a 2D scroller pong game where you are supposed to control a paddle to launch the balls. There are some blocks placed on the game screen. And to eliminate these blocks, you need to hit them with balls. As the game screen moves up, you need to make sure you do not leave any blocks behind.
How to play Nova Idle Clicker?
Nova Idle Clicker is a bit of a strange game. It can make you feel like you are taking random shots here. But the aim here is to reach the target number by eliminating all the blocks on the screen one by one. You can see the target number at the top of the screen. Each block can come in different colors and with different numbers on it. The numbers on the blocks mean that you have to throw that number of balls at that block to eliminate it. You can direct the balls by pressing on the blocks or using your mouse. Additionally, you may use boosters to gain scores faster.
Boosters
We recommend using boosters to increase the damage you give to blocks and get higher scores.
Penta Earnings: This booster helps you get 5x more money for 2 minutes.

Collect Money: Activate this booster to receive a substantial amount of money.

Tap Booster: Increase damage fivefold for 1 minute.
Upgrades
You can make your gaming experience stronger by improving the features presented to you below.
Block Speed

Offline Earning

Tap Damage

Max Ball Number

Ball Damage

Ball Speed

Fire Rate
Features
This is a game reminiscent of old pong games.

The game gets weirder as you level up.

The difficulty of the game increases with each level you pass.

Using boosters increases the damage you deal to blocks.

You are playing in a virtual space, which makes the game even weirder.
Controls
All you have to do is use the mouse to adjust the direction of the balls and shoot the blocks.
Similar Games
If you enjoy playing Nova Idle Clicker, you can look at other free online games that may interest you in OnlineGames.io's 2D Games tag. If you'd like to try something different, we suggest you try BitLife and give birth to a stranger. This is an online living simulator game that you may like.