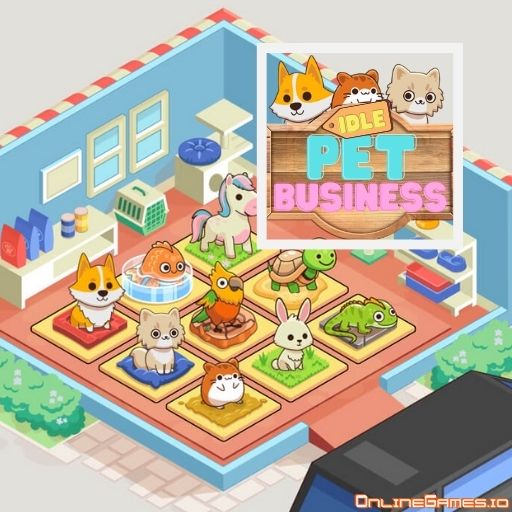 Are you ready to become a millionaire by managing your very own pet shop? It's the dream job you've been waiting for! Idle Pet Business is an idle game where you start nurturing pets with a cute hamster and develop your pet empire.
In this game, you can step into the world of pet care and watch your empire grow from a tiny hamster to a thriving business. Take great care of your animals to earn coins and expand your pet kingdom. 
This game also serves as a realistic business management simulation, offering valuable insights into how such businesses operate.
How to Play Idle Pet Business
Your journey begins with caring for a tiny hamster; from there, you'll start making money. 
Upgrading your animals is crucial as it directly impacts your earnings. 
As you level up your pets, your income will increase, making it essential to invest in their growth.
Unlocking New Types of Animals
There are many kinds of animals here. As you earn money, you will be able to unlock new animals such as puppy, bunny, parrot, fish, chameleon, turtle and even a unicorn. 
When unlocking each new animal, you must collect the amount written on the square.
Upgrading Pets
The key to progress in this business is upgrading the pets. Thus, what you earn from your animals will also increase. 
When the bar under the animals is full, the money you make will be equal to the upgrade level of the animals. 
You can open the Upgrade Store by clicking on the shopping cart icon in the lower right corner of the screen.
Achievements in Idle Pet Business
There are some tasks here. As you fulfill these, you will unlock achievements.
You can open the "Achievements" section by pressing the ribbon icon in the lower right corner of the game screen. 
Get your reward by pressing the "Claim" button next to the tasks you have completed.
Pets on Social Media
Sharing your pets on social media at regular intervals will increase your popularity. Share them on your social media by clicking on the phone that appears on the game screen!
Controls
Play Idle Pet Business using your mouse.
Explore More Games
If you enjoy playing Idle Pet Business, we recommend checking out Idle Restaurant. Invest in your restaurant and watch it grow. Or try Idle Startup Tycoon and become a successful entrepreneur. Both games provide a fun and exciting gaming experience. 
You can also explore other free strategy games and animal games on OnlineGames.io for even more options. Stay connected with us for a constant stream of new and exciting games to play.