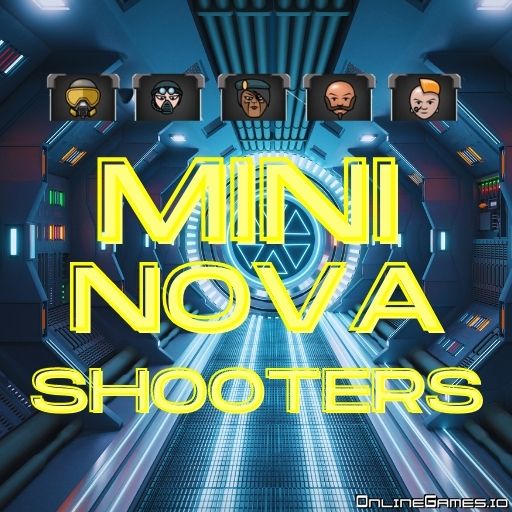 Mini Nova Shooters is an online multiplayer, third-person shooting (TPS) game where you defend your tiny little fighter from enemies. Don't judge these little soldiers by their size. They carry big and heavy guns with their small arms. Protect the territory by yourself or teamplay via multiplayer mode. Either way, you will have lots of fun playing Mini Nova Shooters. Start playing Mini Nova Shooters on Online Games.io for free. Before you go, read about how to play and what to watch out for in Mini Nova Shooters.
The Mini Nova Shooter has to protect his house from the other mini soldiers. It's wild out there. All the shooters are crawling around with the rifles. Either stay in your house to guard it or invade others to eliminate more shooters and collect loot. Loots might be in the shape of new guns, coins, or power-ups. Some power-ups may create a shield around you, making you dive into a crowd of enemies. Some increase the hit rate. There are 30 levels in total in Mini Nova Shooters. The first ones may come easy for some, but it will get difficult rapidly. 
How to Play Mini Nova Shooters? 
WASD or arrow keys: Move

Left Click: Shoot

Mouse Scroll: Zoom in/out

Space: Pick up weapons

1-4: Use power-ups
What are some tips for Mini Nova Shooters?
Follow the red arrows to find enemies.

Collect power-ups along your way.

Keep an eye on the health bar on the top left of the screen. You should use a power-up when it's too low.

Collect the coins to buy new skins.
Can I Play Mini Nova Shooters on my mobile?
Yes, you can play Mini Nova Shooters on your phone or tablet. Use the touch buttons to control the mini shooter and enjoy playing it without downloading. 
Can I Play Mini Nova Shooters with my friends?
Absolutely. Try the multiplayer mode and rip through the round with your friends.
Similar Games
Did you know Mini Nova Shooters is a part of the game series? Try out Mini Shooters now and have at least the same amount of fun with different features. Do you want to try something further? Take a look at our Shooting Games, Action Games and Car Games.