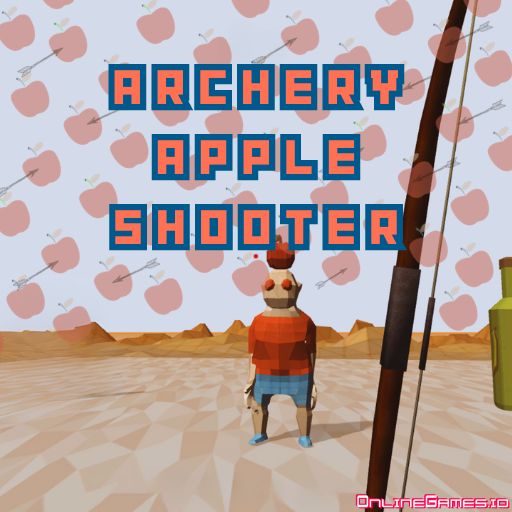 We are going out hunting for apples in the middle of the desert! Archery Apple Shooter is an addictive shooting game that requires aiming solid skill. A man is standing motionless in front of you. And you need to shoot the apple on this guy's head. Or is a new William Tell being born?
How to play Archery Apple Shooter?
Playing this game is incredibly simple and fun. A mouse is all that is required to play the game. Use your cursor to aim, then click the mouse to send the arrow. If your cursor's visibility affects your aiming, press the "L" key to toggle the cursor lock.
What is Archery Apple Shooter?
Archery Apple Shooter is a web game with excellent graphics that you can play for free on OnlineGames.io! The aim of this game is to shoot the apple on the guy's head. Do not be afraid! This guy is immortal; even if the arrow hits him, this man will not die. He may be a little shaken, but he will gather himself back. But, you have been given limited arrows, so when you miss hitting the apple, the number of arrows given to you will also decrease. When you run out of arrows, you lose. Use your best shot!
Tips and Tricks
We can provide you with some advice on how to improve your gaming experience. Take a look at the suggestions below:
You must be patient and careful as your aim with the arrow will be affected by your body movements caused by breathing in and out.

After each apple you hit, the distance you must stop to hit the next one will be longer. And this will make things more exciting!

The more you stretch the bow, the more power the bow releases from the arrow. You must adjust this power well according to the distance between you and the apple.

If the appearance of the cursor on the game screen prevents you from aiming, shoot using the L key.

Additionally, playing by enlarging the screen makes the game more enjoyable. Enlarge the screen by clicking the two-way arrow in the lower right corner.
Alike Games
If you enjoy the Archery Apple Shooter Game, you may try Age of War and Archer Hero as well or look for the Shooting Games tag on OnlineGames.io.