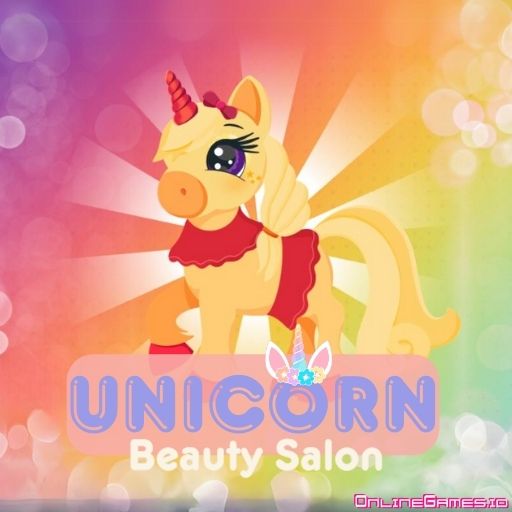 Unicorn Beauty Salon is an online dress up game where the player's role is being a unicorn's stylist. The player will prepare the magical unicorn, starting with her makeup, choosing her eyelashes and blush. Then, you will complete the preparation by choosing her outfit and accessories. As a unique stylist, you need to make her stand out among all the unicorns. Are you ready to shine your light on the little pony in this unicorn game?
How to Play Unicorn Beauty Salon
Turn on your creativity and create the most stylish pony! As a beloved stylist, So far, you have prepared many high school girls and even cute owls and rabbits. It's the pony's turn now.
Unicorn's Makeup
Start by choosing four bright, glittery eyeshadows. The starting point of every makeup is the eyes.

Since the pony's eyelashes are extremely thick, you can also shape them. Pick the most appealing one from here.

She loves blushes. Choose one of the colors here for her: light pink, dark pink, peach and orange.

Let's also select her eye color. Did you know you can put colored lenses on them? There is a mixture of green, blue, purple and green-blue tones here. You are free to choose one of them.
Appearance of Unicorn
Continue determining her body hue. There are 5 different body colors. Click on the flush you want from the star sticks and give that color to her.

It is impossible to ignore the horn! If you want, you can choose a horn color that matches her body color or go for contrasting textures to create something more avant-garde.

It's the tail's turn! Just like the horn color, you can make a complementary choice and give the tail a proper hue. Or you can act more contrary.

Did you know that you can also style her hair? You can braid her hair or let it loose if you want.
Unicorn Dress Up
The final stage of preparation is to determine the pony's clothes and accessories. Dress her in a stylish blouse, put a sticker on her cheek, add a crown to her head if you want, and choose a necklace for her. Of course, never forget the shoes. Here she is, ready in all her glory!
Controls
Use your mouse click to prepare the unicorn.
What is More?
If you enjoy playing Unicorn Beauty Salon, you may also like Owl and Rabbit Fashion. In the dress-up game Owl and Rabbit Fashion, you play as an owl or a rabbit's fashion advisor. Or, you may look for other free girl games on OnlineGames.io for more engaging dress-up games. Which unicorn fashion is your favorite? Post your ideas in the comments section below!
Contact
If you want to report a problem or submit a request regarding the games, you can reach us at Contact Us page.