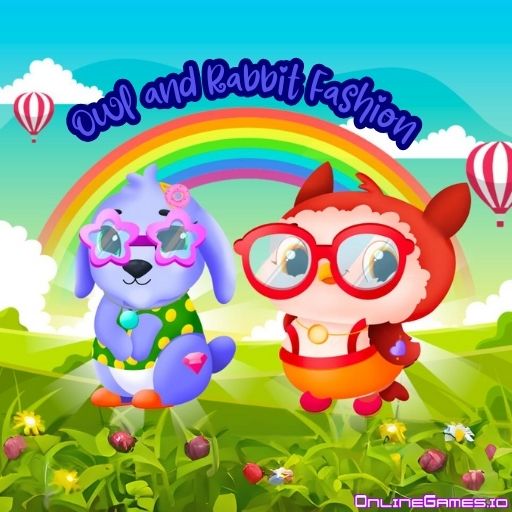 You've probably heard of styling a bride and dressing a pet before. But have you ever been an owl and bunny stylist? Owl and Rabbit Fashion is a dress-up game where your role is a fashion consultant to owls and rabbits. They trust your taste. Keep your entire wardrobe wide open!
How to Play Owl and Rabbit Fashion
Here at Owl and Rabbit Fashion, you can let your creative side shine! You may dress up cute owls and bunnies in this dress-up game in a variety of gorgeous outfits. In this exciting gaming environment with outstanding visuals, demonstrate your ingenuity.
Transform your furry friends into the most stylish pets in the world by starting to prepare them. They are waiting for you!
First, let's choose the color of your owl or rabbit. The options you can see in the color range are pink, golden yellow, green, brown, blue and purple. Choose the one that suits them best.

Then, let's come to the eyes. Eyes are important because they tell everything. Therefore, choose the eye color that makes your beloved animal attractive.

And it is time to put hair bands on your furry friend. Here, you can find donut-shaped and carrot-shaped bands. It's up to you which one you want to put on your pet.

Of course, not without stickers! There are diamond, heart, frog and even banana stickers here. Place one of these on your pet's leg.

Finally, we came to the clothing section. You will see casual clothes here. Then, you need to make your pets wear shoes under these clothes. Your animal friends can wear sneakers or slippers. Match them to their outfits.

As accessories, you can choose a necklace and glasses, but this is optional. If you think the accessory will be too much for your animal friend, you can skip it.
Controls
To dress up your owl and rabbit, use your mouse.
Other Games Like Owl and Rabbit Fashion
If you need guidance on what to play next, Tiny Fishing and Cat Simulator are strongly recommended. You can also see other animal games on OnlineGames.io by following the link.  We add new games and upgrades regularly. Keep coming back for fresh, entertaining games everyday!