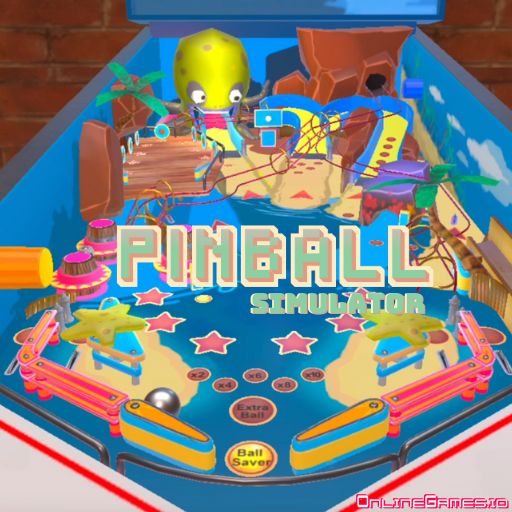 Insert your virtual token and start to play! Pinball Simulator is a simulator arcade game where you can play the ancient pinball game on a digital platform for free! It offers you two different themes: Day of Dead and Octopus Island. Choose which theme you want to play on, and try to keep the ball in the game! Maybe you'll like this more than the classics; who knows?
How to Play Pinball Simulator
Once you have tapped the "Start," a pinball will be released into the plunger lane. This is where you will start your game. Then, pull the plunger to launch the ball. The harder you pull, the faster the ball will be launched. It will start moving on the track inside the machine. Direct the ball using flippers and keep it in play. This is the whole story of this game!
Using the Flippers
Flippers are the two tiny buttons or levers. Keep the ball in play by hitting it with the flippers. Your main objective is to keep the ball out of the drain at the base of the playing field.
Aiming for Targets
The pinball machines' playfield has various objectives, bumpers, and features. You can get more points, activate special features, and raise your overall score by hitting these objectives.
Avoiding the Drain
Attempt to keep the ball in play as long as you can. Pay attention to the ball's trajectory and utilize the flippers wisely to keep the ball from falling down the drain. It takes skill to control the ball while shooting for targets. The game is over when you lose all your balls.
Leaderboard of Pinball Simulator
You can view separate leaderboard information for both themed pinball games. All you have to do is go to the main menu, select the relevant theme and tap on the "Leaderboard." Here, you can view the highest scores and their owners.
Pro Tip for Pinball Simulator
The way to be successful in any pinball game is to have good shooting skills. Enhance your aiming skills. The closer you hit the ball to the tip of the flipper, the further the ball will go in the opposite direction. You have to take this into account when making your shots.
Controls
Use your mouse to control the machine.

Or you can use the Left and Right arrow keys to move the flippers.

When the game starts, you can use the mouse to send the ball from the plunger or press the Space key.

When you tap the Space key, other than sending the ball from the plunger, both the flippers will move.
More Games Like This
If you enjoy playing Pinball Simulator, try Speed Pinball or Bricks and Balls Pinball for other pinball gaming experiences. Or you may look for arcade games on OnlineGames.io for further alternatives by following the link.