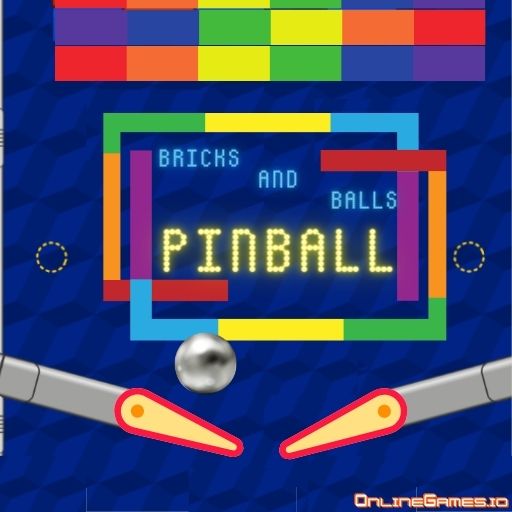 Do you remember the ancient arcade game Pinball? I am sure you already miss it. Bricks and Balls Pinball is an exciting arcade game where you eliminate bricks by directing the balls coming to you according to the relevant areas. You need to control the pinball paddler ideally in order to pass a level. This game is the new generation's digital Pinball. And we need to honor the old ones. If you are ready, let's get started.
How to Play Pinball Online?
Bricks and Balls Pinball is a unique blend of a brickbreaker and a pinball game.

Your goal is to eliminate all bricks on the game screen to win.

You start with 3 extra lives, giving you 4 chances to win. Keep an eye on your heart-shaped life count at the top of the screen.

Be careful not to let the balls escape through the flippers, as it will cost you a life.

The game ends when you lose all your lives. Remember that your life count is replenished each time you pass a new level.

Like classic pinball, 'Bricks and Balls Pinball' features bumpers to keep the ball in play. Your primary task is to direct the ball upwards and break the bricks using the paddles. Simply move any flipper to set the ball in motion. Keep in mind that the balls can pass through any hole on the game screen.
Features
Enjoy 20 exciting levels with increasing game difficulty.

Experience a unique combination of two classic game genres.

The game boasts straightforward controls and vibrant graphics
Is it playable on Chromebooks?
Yes, Bricks and Balls Pinball can be played on any Chromebook, mobile device or computer as long as you have an internet connection.
Controls
Use the A key or the Left arrow key to move the left paddle

Use the D key or the Right Arrow key to move the right paddle

Use the left-click after hovering over whichever flipper you want to move with your mouse.

You can also control paddles by tapping your mobile device's left and right sides.
Alike Games
If you love to play Bricks and Balls Pinball, you should definitely try our other arcade game, Nova Idle Clicker. This game is an exciting clicker game. Or, you may see the other free online game collections curated carefully by tapping the Arcade Games and 2D Games on OnlineGames.io.