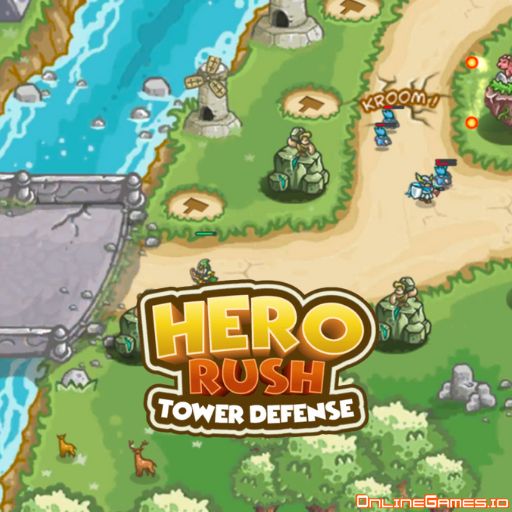 Let's test how long you can withstand the attack waves. Hero Rush Tower Defense is a 2D strategy game where your primary mission is to build and upgrade towers in order to defend your land. Here, you will progress step by step and focus on a different map at each level. Build your towers and protect your lands!
How to Play Hero Rush Tower Defense
Use your strategic skills to plant your towers at the critical points of the map and position yourself for attacks. You can get help from 12 different heroes, each with different abilities, and fight side by side. They are compelling and ready to protect the land at any cost against any threat!
After choosing the level you will play, you can decide the details of the game. First, you need to select the heroes you will play with. Choose one of the heroes on the right, at most three. You can start the game by finally determining the difficulty level of the game.
Building Towers
When you start the game, you will see a map and the game heroes on it. Build your towers by clicking on the circular areas. It would be in your best interest to strategically determine the areas where you will erect the towers. You can build the towers named below.
Archer:

It attacks enemies coming from land and air by sending arrows.

Infantry:

It sends armed infantry to intercept the enemies.

Cannoneer:

It eliminates enemies using the land route by throwing rocks at them.

Magic Dragon:

It fights ground enemies and air troops through magic.
Facing Various Enemies
You will fight different types of enemies. Some will come by land, while others will come by flying. There are pirates, barbosas and lupins. They all have their own features. For example, barbosas have maces to fight, and lupins can expertly evade melee attacks. As you progress through the game, you will unlock many different types of enemies.
Heroes to Choose
This game offers you a wide range of hero catalogs. Upgrading and strengthening them can make your game more enjoyable. You can view them by going to the "Heroes" section from the main menu. You can unlock some heroes by opening boxes, or you can buy them. We will leave some of our favorite heroes below.
Sir Galahad

Ashi

Wukong

Jungle Lord

Thor
Power Ups in the Hero Rush Tower Defense
You can obtain some booster items from the "Store" section of the main menu, such as the Frost Gem and the Meteor Call. You can help defend your lands by using them in addition to your towers.
Controls
Use your mouse to build towers and cast abilities.

Use the WASD or the arrow keys to see the map and navigate.

Use your mouse scroll to zoom in and out.
More Games Like This
If you enjoy Hero Rush Tower Defense, you should try Kingdom Attack, another strategy game in which you must defend your territory with all your might. Alternatively, you can search OnlineGames.io for free strategy games to find further options. Let us know in the comments what you think of this game.