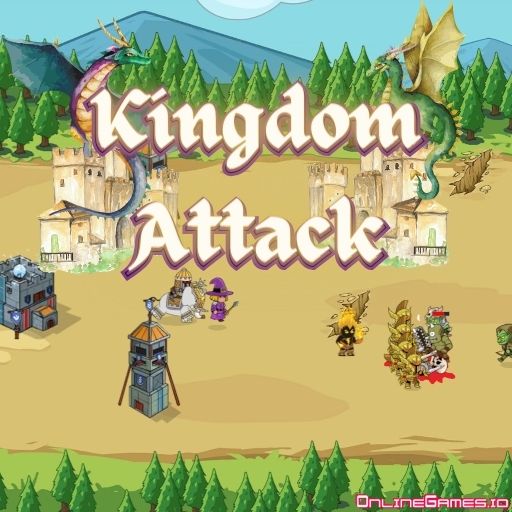 Kingdom Attack offers a fascinating game world where many different creatures live. Employ spirited knights, witches and archers in your army. Upgrade your towers to their most potent. Then, get ready to defend your kingdom from zombies, dragons, and other shapeless creatures on the battlefield. The Kingdom Attack map is divided into several sections awaiting to be explored. Each district has its own unique atmosphere, varying from volcanic mountains to wastelands. Protect your kingdom from indigenous monsters in every land. Hunt down new chests and unpack them for more powerful warriors in your army. With all the witches, dragons, surroundings and chaotic situations, Kingdom Attack will make you feel like you are in the world of Game of Thrones.
Join the battle today by hitting the play button and enjoy the extensive fun on OnlineGames.io for free!
How to play Kingdom Attack?
Use your cursor to play Kingdom Attack. All the information to adjust to the game is below. Follow the steps and be the ultimate ruler of your kingdom.🤴
You can access your missions, shop, heroes, and bag on the main screen. 

After you complete each mission, you will win various prizes depending on the difficulty. Remember to claim the awards to take on more duties. Tasks taking a longer time to complete will bring out top awards. Some of the quests will appear for a limited time. So, try to catch up to get the most out of the prizes each day. 

In the shop, you can buy chests, new heroes, gold coins, and gems. Use your coins and gems wisely so that you will not regret them on the battlefield. Don't forget to check out daily deals in the shop. 

There are 50+ types of warriors in the game. You can unseal them as you progress through the game. Visit the heroes section to view and manage your warriors' strengths, speeds, hit points, and ranges. 

You will loot treasures in the clashes, but chests take some time to unpack. You can check how much time is left before opening a chest on the right side of your screen.  

Auto-play and fast mode options are available in your battles if you are impatient to wage another war.
Tips and Tricks to master in Kingdom Attack
Upgrade your warriors as they gain experience. You can also support them with items you gained in the battles.
Make sure you employed your best warriors in a critical order in your decks. Beware of their attack ranges and ratios while organizing your decks.
As you gain victories and follow through quests, upgrade your main house and guard towers to increase your population and hit points. This will help you overcome more formidable enemies. 
Try to use your resources aligned with your strategy.
Enjoy the challenges and excitement of Kingdom Attack! Remember always to play responsibly and have fun! You can watch the gameplay video for more instructions. 
You can use the following gift codes in the settings menu. Gift codes can be used just once per save.
Gold Gift Code: freezenovagold
Gems Gift Code: freezenovagemz
Similar Games
If you are into Strategy Games, you should definitely try Fantasy Tower Defense and Age of War.