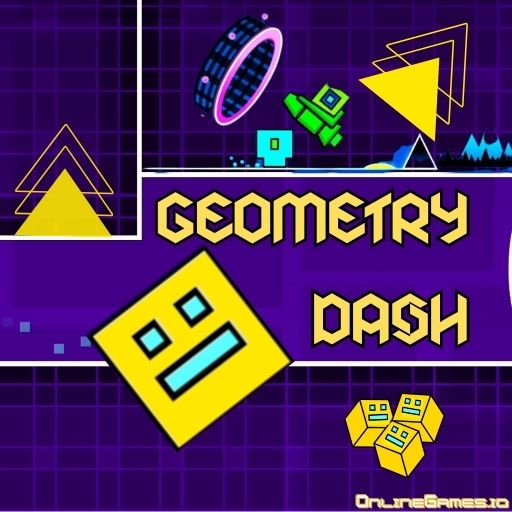 Prepare yourself for the hardest! Geometry Dash is a very challenging arcade game, and it is famous all over the world. No matter what, you need to keep the cube away from obstacles. For this, you need to be agile. This game is a magnifying game, and you have to follow the rhythm of the music. The obstacles you encounter are in sync with the tempo of the music. So, turn up the volume and trust your ear. Now you are ready!
How to play Geometry Dash?
Open OnlineGames.io from your web browser

Search for Geometry Dash from the search icon in the upper right corner

Enter the game and choose your game mode

Start to play and jump over the obstacles by pressing spacebar.

The game controls of Geometry Dash are straightforward. Press your W key, Up arrow key or the Space key to jump. Use whichever feels more comfortable to you. 

As you level up, you will taste new atmospheres as well as new vehicles. You can also control these vehicles with the arrow keys or WASD.
Tips and Tricks
It is an undisputed fact that Geometry Dash is a difficult game. Each level you skip will double the difficulty of the game. Be ready for these. There are some suggestions we can give you during the process of getting used to the game.
This is a rhythm-based game, and music makes the game more enjoyable. But if you think the music is distracting and making your job difficult at first, you may want to consider turning down the volume.

Practice with caution. Because becoming accustomed to this game will take some time. Your reflexes and focus will be put to the test in Geometry Dash. But believe me, it is worth it!

If you are having trouble skipping a level, don't bother trying to get the coin at that level. Let's look at the following matches!
Game Modes
Geometry Dash offers you three different game modes. These game modes are listed below according to their difficulty levels.
Stereo Madness

Back on Track

Polargeist
When is Geometry Dash 2.2 coming out?
Geometry Dash's upcoming twelfth major upgrade, upgrade 2.2, is set to be published in October 2023.
When did Geometry Dash come out?
The game was published on iOS and Android on August 13, 2013, and on Steam on December 22, 2014. You now have the opportunity to play this game for free on OnlineGames.io via your browser!
Geometry Dash Controls
Space/Up arrow or W to jump over obstacles

WASD or arrow keys to move the vehicle
You May Also Like
If you found Geometry Dash fascinating, look for the Arcade Games tag on OnlineGames.io or check out other games you might like, such as Color Tunnel, an exhilarating game just like Geometry Dash and the other quite challenging but enjoyable one is OvO.