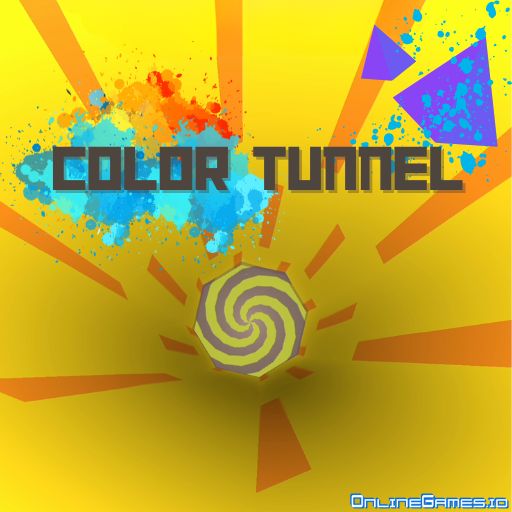 How much do you trust in your reflexes? Color Tunnel is a fast-paced 3D arcade game where everything can change in the blink of an eye. You will be sliding through the colorful walls of the endless tunnel. There will be various obstacles along the way. You need to be able to maneuver well. Do not lose your control and dominate the tunnel!
How to play Color Tunnel?
It is a very simple game to control. Use the A and D or Left and Right arrow keys to move forward and backward. You can also use your mouse cursor.
What is Color Tunnel?
Color Tunnel is a free browser game where you need to escape through moving obstacles in a colorful tunnel. You will see the tunnel changing as you level up by getting more and more scores. Each level has many complicated obstacles ranging from triangles to hemispheres to run over. Some of these shapes revolve around, and some stay still. This is what makes this game exciting. Additionally, your speed will accordingly increase. Prepare yourself for the hardest as you progress through!
Tips and Tricks
It will take time to adapt to the game. You will lose the game a thousand times until your adjustment. As it is a real challenge. But when you get used to it, it will be the most thrilling arcade game you have ever seen. 

Sometimes, you will encounter two obstacles, one after the other. The best way to pass through these is to find the junction point. However, in order to make this transition, you need to anticipate the intersection and act accordingly quickly.

The platform you are on will move non-stop. Adjusting the rotation direction according to the movement of the platform is the best option.
Health Benefits of Color Tunnel
There are numerous proven benefits of playing arcade games. Arcade games like Color Tunnel help you with the following:
Reduce stress:

Numerous studies have shown that playing arcade games can help those who are depressed or anxious. Playing online arcade games also helps with hand-eye coordination.

Improve reflexes:

Players' focus levels improve during the game, allowing them to complete a variety of abilities and activities. This enhances reflexes, in turn. 

Increase mental activity:

People who enjoy playing arcade games must consider their choices carefully and live with the results. Making quick decisions between two obstacles can enhance a player's capacity for multitasking and split-second decision-making in Color Tunnel.
Games Like This
If you enjoy playing Color Tunnel, you should definitely try Stack Fire Ball and Tunnel which have similar mechanics to Color Tunnel, on OnlineGames.io.