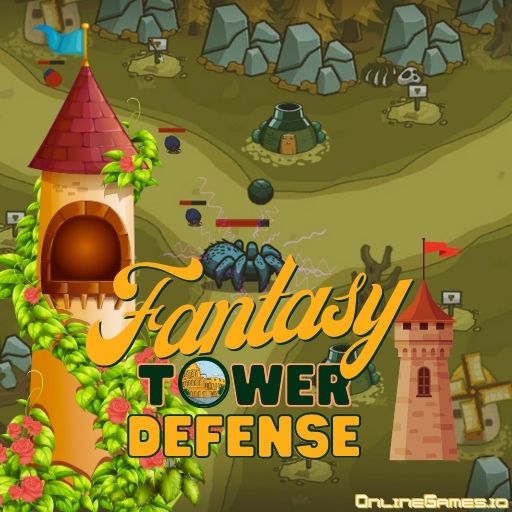 Guard up! The first thing to do is protect your land at all costs. These ugly creatures will try to destroy your spot. They will try their best to get there. While they are on their way, build towers by using your coins. Place them mindfully so that there will be no room for the enemies to escape any blind spot. For each enemy that reaches the area, you lose a heart. Lose all your hearts, and you are done…
There will be attacks in waves. When a wave ends, another begins in seconds... Be prepared! Each wave is getting harder and harder.
How to Play Fantasy Tower Defense?
Tap to start.

Select your level in the "Level Select" section.

Choose your difficulty level.

Click to start.

When you tap on the skull image, enemies begin to run.

Defend your towers from enemies in your way.
Controls
Difficulty Options
You can select the appropriate difficulty option on the starting screen when you tap on the level you play. It's up to you. For your information, you earn more gems in the nightmare mode! The harder it is, the more fun it will be.
Normal
Hard

(You need 3 stars to unlock it.)

Nightmare

(You need 3 stars to unlock it.)
Towers and Weapons
Build towers, and eliminate enemies. Seven different tower alternatives exist, but you can only access four. The rest will unlock themselves when you level up accordingly. If you say, "I am impatient; I can't wait to level up!" you can instantly unlock them using your diamonds from the shop section.  
You may upgrade your towers with your coins or sell them and place new ones in another direction while battling enemies. Tab a tower for selling or upgrading it. Do whatever you have to do, and do not let them cross the line. Use them strategically.
Your tower options are:
Archer Tower

– Use this tower to attack enemies with arrows.

Thunder Tower

– Crash them under the lightning rays.

Gunmen's Tower

– Shoot them, kill them.

Mage's Tower

– Are you fond of creating magic with fireballs?

Poison Tower

– There will be no antidote.

Rocket Launcher –

Missiles are ready for your command.

Cannoner

– Stone balls are flying everywhere.
Power-Ups
Besides building towers, there are power-ups. But they are limited. You can use them by clicking on the bag on the right side of the screen while playing. They work like aid forces. You choose an option from the bag section, then place it by tabbing anywhere enemies come. When you are out of your limit, you can use your stars to get power-ups from the shop. Likewise, by using your stars, you can upgrade their efficiency from the upgrade section.
You have 5 alternatives:
Reinforcement

– Your soldiers will eat them up.

The Power of Frost

– Freeze them by leaps and bounds.

The Lord's Fire

– Burn, burn, burn them, and bury them into the ground.

Mines on the Road

– Some explosions may occur.

Toxic Mud

– Lower the blood pressure.
More Games Like This
If you like Fantasy Tower Defense, look at Strategy Games tag for more options.