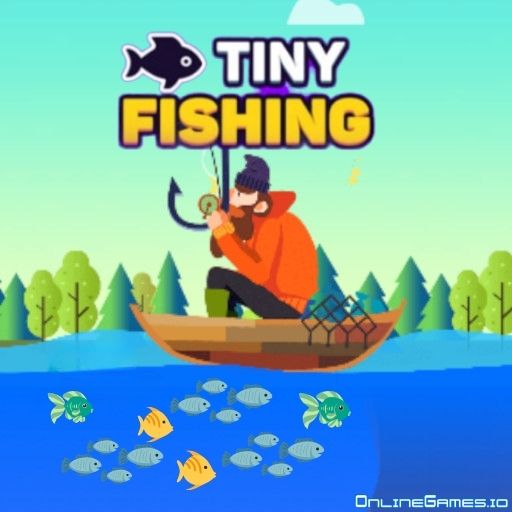 We are not here to give you fish but teach you fishing so you will be fed for a lifetime. Tiny Fishing is a great online game with effortless controls and charming visuals. The game is also suitable for all ages and skill levels since it has casual, nonviolent gameplay with colorful visual elements. Choose your fishing tackle, rods, lines and hooks. Then, chase after big, rare and exotic fishes. Get to know more about sea animals by playing Tiny Fishing for free on OnlineGames.io.
How to Play Tiny Fishing?
You will be given a standard fishing tackle that you can customize later with the coins you earned. Cast your line by hitting the play button and catch the fishes you like.

Move the hook near to fish with mouse or swipe with your finger on tablet. Sell the fish and earn coins to buy more fishing equipment.

The hook has a catch quota, a maximum number of fish that can carry. 

The line length is also essential because there are rarer fish in deep waters. Increase line length and catch quota to hunt down more valuable fish.
How do I earn coins in Tiny Fishing?
There are two ways of income in Tiny Fishing. The first one is by catching fish and selling them. Second is passive income, which you earn while offline. Either can be raised by buying boosters.
Can I play Tiny Fishing on my tablet?
Yes, you can play Tiny Fishing on your tablet by swiping your finger to move the hook.
What are some tips for Tiny Fishing?
Here are some tips for mastering Tiny Fishing: 
Go deeper to find more precious fish by upgrading your line.

Buy new hooks to attract more fish.

Hit the play button when the indicator is at max.

Go after uncommon fish

Boost your catch quota and offline income rates.
Are there any sharks in Tiny Fishing?
Stay loose! Tiny Fishing has no sharks, but you will find very interesting sea animals deeper in the water. You may come across octopuses, dolphins and seahorses.
What to play next?
You may continue our Kids Games or io Games to have a great time.