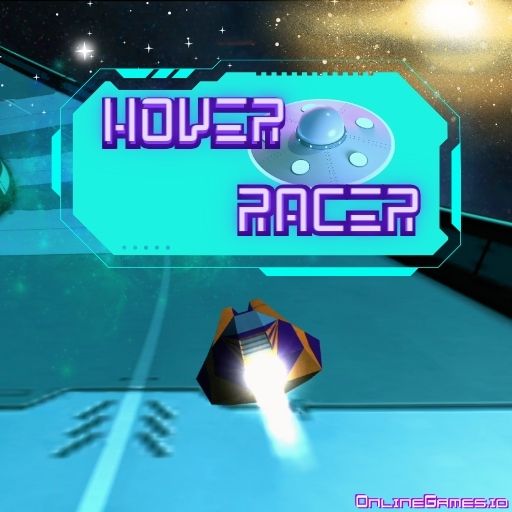 Driving has never been this fun with Hover!
Hover Racer
is a 3D racing game where you drive Hover in a Sci-Fi world. Hover Racer will be a very different gaming experience for you. The cars were shelved. Now it's about hovers. Are you ready to join us?
How to play Hover Racer?
Hover Racer's controls are straightforward:
Use the Arrow keys or WASD to steer the Hover

Use the Left Shift key to use ammo
What is Hover Racer?
Hover Racer is a dynamic racing game you can play freely on OnlineGames.io. It provides you with three different hovers: Thunder, Wolf and Mystral. Thunder and Wolf are already available, and you can get the Mystral with your diamonds. You can upgrade your Hover with your diamonds, too. Upgrading it will enhance the chance of winning the race.
Tips and Tricks
You can make your Hover Racer experience more enjoyable by following the suggestions below. 
The turns in the game can be a bit harsh. Considering the possibility of a crash, it may be better to enter the bend under control. Otherwise, you will crash and lose speed.

By attacking your enemies, you can slow them down and get ahead. Use your left shift key to use your ammunition and throw paint at them. Use your best aiming skill!

There are additional powers to help you during the race. Turquoise markings will help you increase your speed, while purple ones will refill your ammunition.
Upgrading Hover
When you win the race, you will earn diamonds, and the best way to use these diamonds is to strengthen your Hover. Each Hover has its own characteristics and features. In the menu, you can see these features of the hovers and how strong they are, and you can strengthen them accordingly. You can adjust and upgrade these features as you wish.
Tracks
Hover Racer offers you options on which track you will race on. There are three different environments that you can choose from.
Similar Games
If you like playing Hover Racer, you may like other Racing Games as well. Our recommendations are Airplane Racer and Highway Road Racing. Follow the links to play them online!