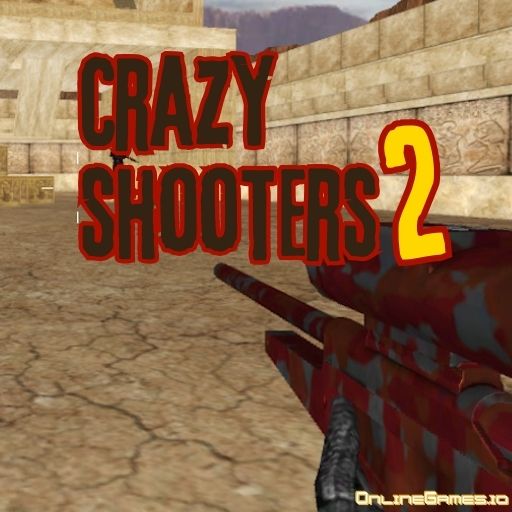 oin the thrilling journey of shooting in unique environments in Crazy Shooters 2. Show your strategic skills as you survive and fight against enemies. Make sure you are well equipped and possess the best weapons that will make you win every fight against opponents.
How to Play Crazy Shooter 2?
Before being able to play the game, you first need to create a room.
You can name the room, choose the maximum number of players to join and select the game mode Free for All (FFA) or Team Deathmatch. You can also join other players' rooms or play with your friends. 
There are 11 maps available in Crazy Shooters 2, all waiting to be explored. Have a battle royale in a gladiator arena or enter a gunfight in a factory or a freight port. Choose to your liking while creating a room of your own.
Crazy Shooters have a vast and exclusive selection of weapons. Pick up between 9 guns varying from a Ballistic Knife to heavier rifles like MP5KA4, RPG or M79.
You can check your kill feed, weapons, health and ammo, time, leading player on the screen or chat with the players on the center-left. 
You can also check your gaming statistics to see the number of games played, wins, kills and scores. Compare it to your friends' statistics and choose the Craziest Shooter between you. 
Controls
Left mouse button to shoot

Right mouse button to aim

R to reload

C to crouch

P to pause

1-9 key to change weapon

T to open chat and enter to send

Space bar to jump

Hold shift to run

Tab to open the menu
More Games Like This
Fan of action-packed shooting games. We have more games like Crazy Shooters 2 in our Shooting Games, Action Games, and Crazy Games tags.