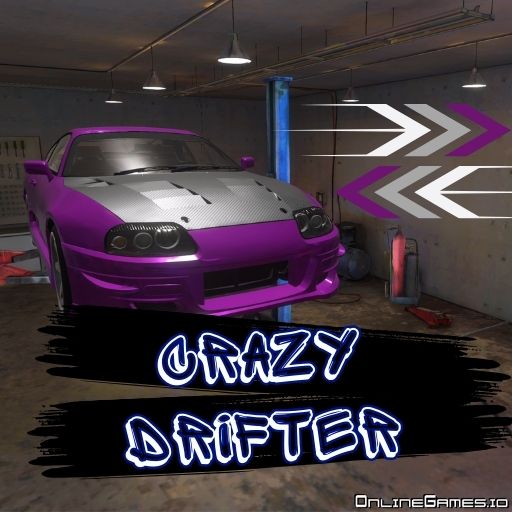 The streets are calling you! Crazy Drifter is a racing simulator game where you tend to drift often. This game is a different breath of racing games. I am sure you will be addicted to the adrenaline this game causes you to release! It offers you four different racing options with different gaming experiences: Drift, Time Attack, Knockout and Circuit. Choose the one that suits you the best and join the race! The streets have something to suffer from you…
Game Controls
Just like other racing games, Crazy Drifter is very simple and enjoyable to play.
Use WASD keys or the Arrow keys to steer your car

Use the Spacebar to use handbrake

Use the Left Shift to boost

Use the C key to change the camera view
Garage
You will earn money as you play the game and win races. Your best investment option with the money you earn is to either buy a new car or modify your existing one. Or buy the most expensive car in the garage and change it. Crazy Drifter offers you five different vehicles and lots of modification features. Below, you will find what you can modify in Crazy Drifter:
Paint

Cage

Hood

Front Bumper

Splitter

Side Skirt

Back Bumper

Spoiler

Exhaust
Tips and Tricks
This game will be competitive. Prepare yourself for this. There are some strategies to get ahead of other vehicles.
You will be in the flowing traffic while racing with other cars on the streets. This is good on the one hand and bad on the other. You have a high risk of hitting other vehicles and getting left behind. However, you can also get ahead by squeezing the cars you are racing against with cars flowing in traffic.

Since the game aims to drift, the vehicles are thrown a lot when maneuvered left and right. And the map you are racing on has some sharp twists and turns. It may be best for you to adjust your speed and steering wheel well around curves and slow down your speed from time to time. Remember that steering control is your biggest weapon in this game.
Similar Games
If you like playing Crazy Drifter, you should definitely try Drift Boss and Drift Hunters Pro or, check out the Drift Games tag on OnlineGames.io for more options.