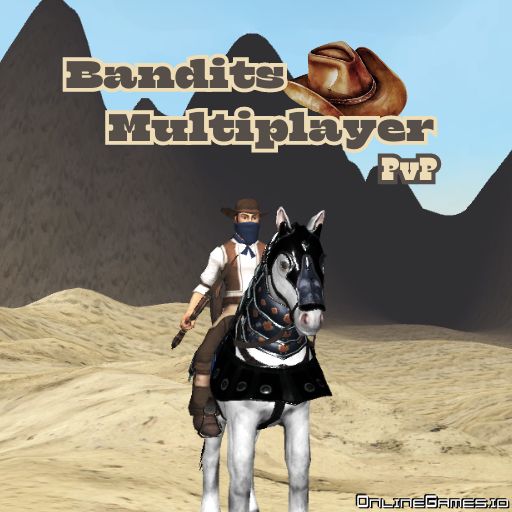 There are no rules or order here. All the cowboys on the west side are fighting each other. Bandits Multiplayer PvP is a 3D action game where you, as the most dangerous bandit in the Wild West, try to survive among other bandits across the world or fight against zombies. The only thing you have is a warhorse that is loyal to you. You can't trust anyone. Just you and your horse.
How to Play Bandits Multiplayer PvP?
As you ride your horse through the sand and debris, you will encounter zombies and cowboys. While fighting your enemies, you can throw arrows or engage in close combat with your sword to eliminate them. Your loyal horse will fight alongside you. Other than him, you are all alone in this chaos.
Game Modes
There are 6 game modes you can join to play. The conditions of each game mode are different. For example, while you fight with a gun in Pistol DM, you only face zombies in Zombie mode. You can start the game by choosing the one that appeals to you the most. 
Deathmatch

Team Deathmatch

Battle Royale

Zombie

Arcade

Pistol DM
Game Options in Bandits Multiplayer PvP
After you decide which game mode you want to play in, you can determine your game map and other details about the game.
There are 3 maps: Wasteland, RedWaste and Dusty. Choose one and start wandering around with your horse.

Apart from these, you can also determine the number of kill scores, select the number of players and consider the option of playing on the night map.
Customize the Horse
As you earn money from the game, you can unlock new horses. The beautiful brown Karma and the black Magnum in its most noble form are waiting for you.
Controls
Use the WASD keys to move

Use the Space key to jump

Use the Left Shift to run

Use the 1 and 2 number keys to switch weapons

Use the Tab key to go to the menu

Use the Left mouse button to attack
Similar Games
You should definitely try Wasteland Shooters, another multiplayer shooting game where you fight against online players in the towns of the West, if you like playing Bandits Multiplayer PvP. Or you may look for other battle games on OnlineGames.io for further options. Stay connected, and you will always have something new and exciting to play!