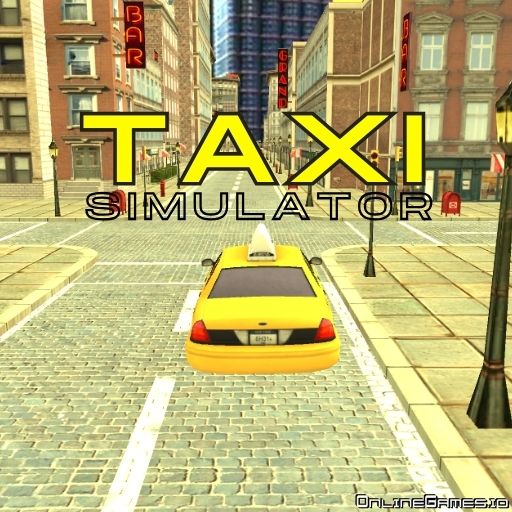 Welcome to New York City! Being a taxi driver in a metropolitan city… Sounds challenging. Taxi Simulator is a driving game where you pick up your customers from a specific place and get them to their desired destination as soon as possible. It is a very addictive game, as its graphics and vivid traffic offer a real-time gaming experience. Start the engine and hit the streets!
How to Play Taxi Simulator
Select your level and start to drive your yellow cab. You can see the point where you will pick up and drop off your customer from the map provided in the upper right corner of the screen. The red circle shows where you will pick up your customer and the green circle shows where you will drop them off.
Picking Up Customers
Move on the map to the place where you will pick up the passenger. There will be green indicators to guide you as you move on the road. Pick up your passenger by following these.

When you arrive at the area, stop the vehicle at the green ring that grows and shrinks, pick up your customers and take them wherever they want.

When you arrive at the destination, you will leave the customer there, just like you picked them up, at the green halo.

On some levels, you will need to serve more than one customer. You need to pick them all up from their places and carefully drop them off where they want to go.
Parking the Taxi
Your task here is not only to transport your customer from point A to point B but also to park the yellow cab as it should be at the place you are carrying. The trick here is to park the taxi by adjusting its direction correctly.
Key Features of Taxi Simulator:
High-Quality Graphics:

Immerse yourself in stunning visuals that bring New York City to life.

Fast-Paced Gameplay:

Enjoy the excitement of quick-paced action as you navigate through the city's bustling streets.

Detailed Map:

Explore a meticulously designed map that replicates the heart of New York City.

Unique Challenges:

Each level presents distinct challenges, keeping the game fresh and engaging.
Controls
Use the WASD or the Arrow keys to steer the yellow cab

Use the Space key to handbrake

Use the C key to change the camera view
Similar Games
Try Taxi Driver, where you drive a taxi and serve your customers in a 2D game. Or you may look up other free driving games on OnlineGames.io for further alternatives.