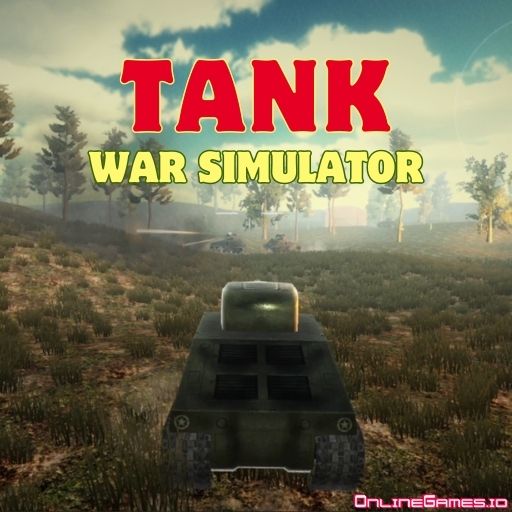 Tank War Simulator is a 3D battle game where the player is in control of an armored war tank. You will steer your tank in a foggy forest. As you slowly progress through this forest, you will see your enemies on the other side.
It is inevitable that a war will occur. You need to protect your oldest friend from the missiles of other machines and open fire on them. You will witness the biggest tank wars between two teams!
How to Play Tank War Simulator
When you open the game, tap the "Play" button and begin to fight with enemies. Work together as a team to get a tactical edge in the crowded battlefield. Yes, the other side will be a little crowded. But we think you can handle any challenging battle.
You can try to use the misty forest to your advantage. Since fog will cover your machine at a distance, you will reduce your enemy's viewing quality. Prepare for chaotic warfare!
Using the Radar Map
You will see a circular radar map in the upper right corner of the game screen. The people displayed here with green triangles are your teammates, while red triangles symbolize your enemies. Follow both allies and adversaries, by keeping a close eye on the circular radar map located in this corner. Effectively checking on this map is essential for playing strategically.
Some enemies can enter your and your team's territory in no time. The more you keep this place under control, the better you can filter out the enemies that get in there.
Missile Reloading
It may be a little difficult to send missiles to your enemies in rapid succession in the game. Because they are heavy bullets, reloading takes some time. You can view whether refilling has occurred or not from the bottom right corner of the screen. If you see 1, it means the filling is complete.
Aiming the Enemies
While responding your enemy with a missile, shoot from a long distance. This will ease aiming.
You can aim by clicking on the right side of your mouse. A giant aiming screen will appear. This will help you aim accurately.
Tank's Health Bar
You can also see the plus icon on the lower-left corner. This shows you the health status of your tank.
200 is the full value. Naturally, the value of this bar decreases when exposed to bullets and missiles. When it drops to zero, you lose.
Controls
Use the WASD or the Arrow keys to move.

Use the Left Mouse click to shoot.

Use the Right Mouse click to aim.

Use the Q key to change weapons.

Use the Tab key to pause.
Similar Games
If you are a fan of tank games, just like in Tank War Simulator, you should also check Tank Racing. Tank Racing is a driving game where you move the vehicle in a military area.
Or else, you may look up other online battle games on OnlineGames.io for more options. Keep coming back to discover new games!