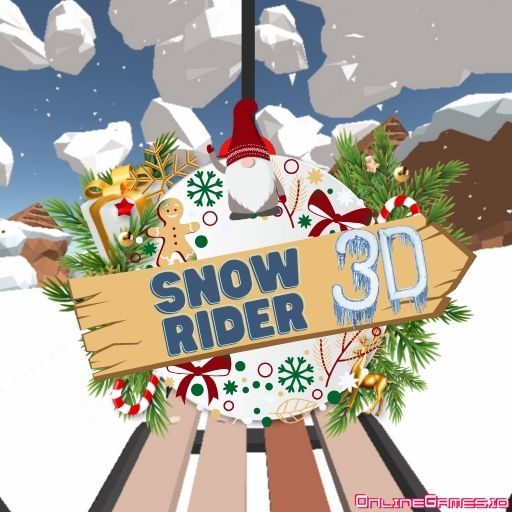 New Year's Eve is approaching. Everything is covered in white. It might be fun to slide on some snow during this period. Snow Rider 3D is a realistic 3D snowboarding game where you glide through millions of obstacles on a snow-covered mountain. While sliding, you must escape from the snow masses and pieces of wood approaching you. If you hit any one of them, you lose the game. It might be more fun to play with the sound turned up!
How to Play Snow Rider 3D?
When you enter the game, tap on the sleigh to start sliding. You are on a fast-moving sleigh and will face many obstacles while sliding. You have to make intelligent moves. There will be blocks you need to jump over when necessary. You will need to sneak through moving snow globes. Every obstacle you overcome will be recorded as a score on the left side of the screen.
Collecting the Gift Boxes
The game does not end with overcoming obstacles while sliding. At the same time, you need to collect the gift boxes that appear on the game screen. You can use these to replace your sled with new ones.
A Piece of Advice
Our keyword to achieve high scores in this game is concentration. Because things will get complicated. You must jump and make sudden maneuvers left and right to avoid hitting any objects. It may take time to develop this concentration.

We have another suggestion for you. While playing the game, your primary focus should be your slide and the obstacles around you. By acting aware of everything around you and looking ahead, you will likely overcome the challenges that come your way efficiently.

Like everything else, practicing in this game will make your job easier. It may seem not easy at first, but you will see your score increase over time. It will get better with practice.

You can increase your sliding capabilities by purchasing new sleds. Collect the gift boxes and choose the one that suits you best among the sleighs by entering the "shop" section from the menu.
Advantages of Playing Snow Rider 3D
Playing Snow Rider 3D improves concentration. While playing the game, you must control your speed, the sled's direction and other obstacles.

You will encounter obstacles that will require you to make sudden maneuvers. Therefore, serious hand-eye coordination is needed here. You will see this improve as you practice.

Playing challenging games like this enhances brain activity.
Controls
Use the A or the Left arrow keys to steer left

Use the D or the Right arrow keys to steer right

Use the W, the Upper arrow and the Space keys to make the sled jump
Other Free Games
If you haven't checked out our other sports games and want to try something different, we recommend playing Jet Ski Boat Race. You will be sliding on the water instead of snow this time. Or else you can look at all driving games and action games that may interest you on OnlineGames.io.