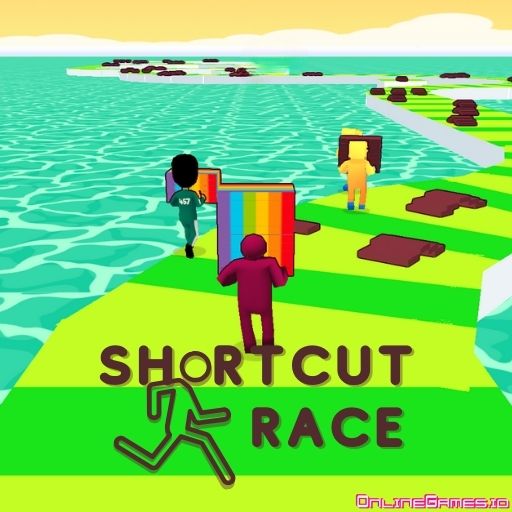 Shortcut Race is a 3D running game where the one who cheats the most wins the race. We know it is not fair, but also fun! You will race with wacky characters on a twisted road on the water. Collect the planks on your way and build shortcuts to get ahead of your rivals. Collecting more planks will enable you to shorten your route and reach the finish line faster. Outsmart your rivals and be the winner of this rigged race game.
How to Play Shortcut Race?
Take your position at the back of the opponents. The race starts soon.

Tap on the 'Play' button to start. Move your mouse or use left and right buttons to navigate.

Race on the water to reach the finish line without falling into the water.

Collect as many planks as possible on this jagged track.

With the planks you collected, you will craft a shortcut bridge on the water to go off the usual track.

Using planks is not the only way to create shortcuts. You can also jump to islands to get ahead.

When you reach the finish line safe and sound, you will enter another round to multiply your earnings from this race. Use the leftover planks to track along the highest-numbered islands.

Use your coins to buy shiny and colorful planks or a new skin.
Tips to Keep in Mind
Use the planks wisely to build the most efficient route.

The more planks you have, the straighter and shorter the way to the finish line. 

But it is a fun idea to challenge yourself on how far you can go with the minimum amount of planks.

Be aware that your competitors are not just a bunch of fools. They will try every possible hustle to stay ahead of you. They will also build shortcuts on their way and jump off track to win this race.

You may see some of them falling into the water, increasing your chances of winning.
Features
Playable on PC, iOS, or Android devices

Unique levels with increasing difficulty

Vibrant 3D graphics

Character customization options
Similar Games
If you like free running games like Shortcut Race, you should definitely try LOLBeans io and Dont Fall io. Have a look at the Racing Games tag to find more games like Shortcut Race.