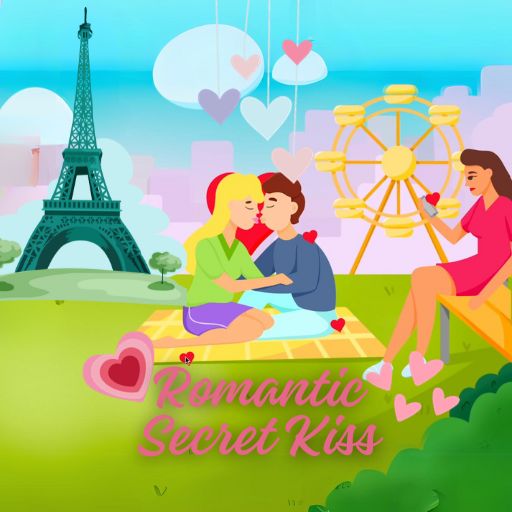 Welcome to Paris, the city of lovers! ❤️ Romantic Secret Kiss is a love game where two lovers kiss sneakily near the Eiffel Tower. But be careful while playing this game. They shouldn't let anyone see them kissing, primarily the painter who is painting the Eiffel Tower. The love scale needs to be filled. When this bar is complete, you level up, and things become increasingly difficult at each level.
How to Play Romantic Secret Kiss
You and your beloved find yourselves in a picturesque park overlooking the Eiffel Tower. The romantic ambiance is undeniable, making it nearly impossible to resist stealing kisses. However, there's an artist beside the couple, diligently painting the iconic tower, classic Paris, right? Seize the perfect moment to kiss partner while the artist is engrossed in his artwork.
When the artist turns towards the couple, an exclamation mark will appear on the screen. Soon, the artist turns to the right. Make sure he doesn't see them kissing.

When the love scale is filled in the upper left corner of the screen, you can move to the next level.

In later levels, additional visitors will arrive at the park, making your mission even more challenging. Timing is crucial – look for moments when both the artist and the newcomers are preoccupied.
FAQ
Is it free to play Romantic Secret Kiss?
Yes, you can play Romantic Secret Kiss on OnlineGames.io for free. You don't need to download anything; you don't need to create any registration. Just enter the site from your web browser and search for the game.
On which devices can I play Romantic Secret Kiss?
You can access Romantic Secret Kiss on Android and IOS devices, Chromebooks, desktops and tablets easily.
Controls
Simply use your mouse to kiss the partner.
More Games Like Romantic Secret Kiss
Love Tester is a great game to play if you enjoy Romantic Secret Kiss. It allows you to determine how much your crush loves you. The test is also available for use with your friends. For more possibilities, try searching through various avoid games on OnlineGames.io. Return often to get fresh and entertaining web browser games!