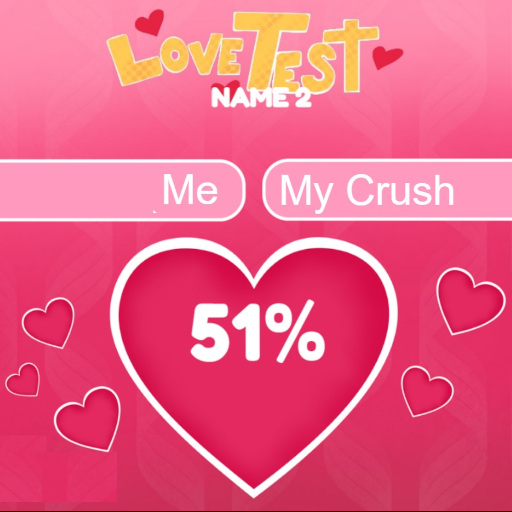 Do you want to know how much your crush falls for you? Here is a way to test the love of the one and only. Love Tester is an online game where you fill out your and your crush's names. Then, let the tester do all the calculations about how much they love you, miss you during the day, or have any second thoughts about you. We have to warn you. You may not always get the results you hoped for. Hold your head up! You can always test your other crushes' names and reconsider someone you have been unsure about.
How to Play Love Tester?
Open Love Tester on OnlineGames.io. 

Enter your name and the name of the person whom you want to test the love of.

Hit the big heart at the center, and you will get the love calculator's compatibility results in seconds.
You will see your results in percentages and get an evaluation of the potential associated with the couples you entered.
Maybe the result will encourage you! About expressing your love… 😉
How to Know If Someone Loves You?
Throughout history, people have been inclined and eager to receive insights into the future. Some consulted seers, some consulted tarot readers or stars… Especially in romantic matters, people have tried and are trying to relieve their desperation in these ways. If you need a test on how to know if someone loves you here is an online love tester for you. We can say that Love Tester is the 21st-century version of those ancient methods of fortune telling. Think of it like a computerized version of old tarot and oracle games.
Is Love Tester True?
We would really like to give you exact results on how much your loved one cares about you. However, you are the only person that can truly understand this.  If you desperately want to know if someone has feelings for you or not, look at all the signals they are giving. Are they happy, cheerful and excited when you are with them? Trust your instincts on this. Remember, nothing can measure true love! It can only be felt. Just enjoy the Love Tester and have fun!
What to Play Next?
You may continue to play one of our Kids Games, such as Elastic Man where you can relieve your stress freely. Otherwise, if you want to try something different, we have wonderful io Games for you to have a great time.