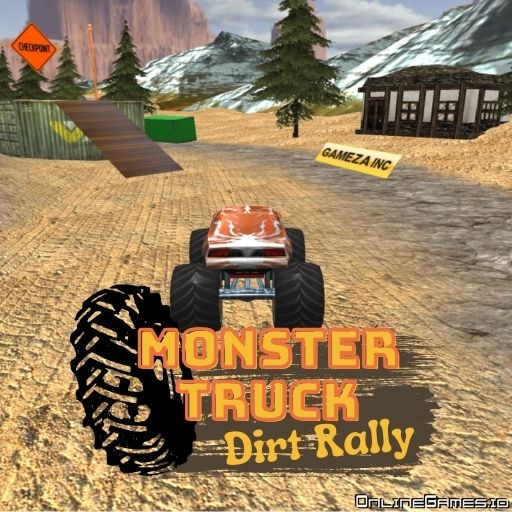 It's off-road time with giant monsters. If you like to get involved in rain and mud, you are in the right place. Monster Truck Dirty Rally is a monster driving game in which you race regardless of rain or shine. There are different game options that the game offers you. Choose what you want and join the rally.
How to Play Monster Truck Dirt Rally
Choosing Game Mode
Before you start the race, you need to choose the game mode. Monster Truck Dirty Rally offers you 3 different game options: Career, Challenge and Offroad. Each game mode has 10 unique levels.
Career:

Unlike the Challenge mode, the Career mode does not have an endurance bar or police surveillance. Here, you race with your opponents and try to reach the finish line. You must finish first, or you lose.

Challenge:

The truck will have a particular endurance bar in the Challenge mode. If this bar drops to zero, you will be arrested by the cops. You are under full police surveillance here.

Offroad:

You steer your monster truck in a freestyle manner in the Offroad. There are no opponents here. Here, you will pass through ramps and other obstacles. You are all by yourself, trying to pass the checkpoints and reach another level.
Truck Selection
Monster Truck Dirty Rally contains 8 colorful and magnificent monster trucks. Choose the one that appeals to your eyes and start your game.
Checkpoints
There are checkpoints in all game modes. You are responsible for passing all of these. You must pass all of them to be given the right to see the other checkpoint. Otherwise, you are not allowed to level up.
Controls
Use the WASD or the Arrow keys to steer the truck

Use the Space key to handbrake

Use the C key to change the camera view
Want to play more?
Suppose you enjoy playing Monster Truck Dirty Rally. In that case, you should definitely check Monster Cars: Ultimate Simulator, which provides extensive customization options. Or, you can look for other online driving game collections on OnlineGames.io.