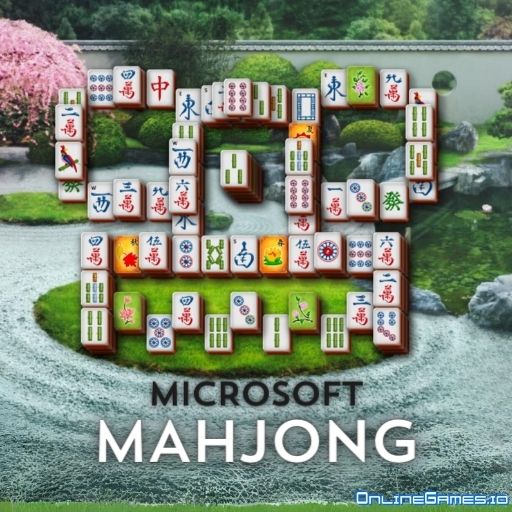 Microsoft Mahjong is a computer game inspired by Mahjong Solitaire. It was published by Microsoft Studios in 2012, initially for computers with Windows operating systems. The good news is that playing mahjong online in your web browser is now possible!
Microsoft Mahjong aims to match each tile with its pair until there are no more left. Let's keep the spirit of mahjong, one of the oldest games, alive!
Origins of Mahjong
Mahjong, a beloved Chinese game, has been enjoyed since the mid-19th century during the Qing Dynasty, although its exact origins are a matter of discussion. This captivating game is thought to have developed from a blend of traditional Chinese card and domino games.
How to Play Microsoft Mahjong Game
There are 144 tiles in the game. The aim of the game is to match these 144 tiles with their matches.

In order to make a match, make sure the stoneware you choose is free on one side (left or right).

Do not have any other tiles stacked on top of the other tiles. There may be instances where a tile is hidden under another, requiring you to remove the top layer before being able to access it.

Once you have matched all the stonewares and there are no tiles left, victory is yours!
Mahjong Tiles' Order
The game offers 50 different layouts divided into 4 difficulty levels: easy, medium, hard, and expert. You decide how hard you want to push yourself, but the way to improve is to constantly challenge yourself, right?
Easy:

14 layouts

Medium:

18 layouts

Hard:

13 layouts

Expert:

6 layouts
Themes for Background and Tile Sets
The game offers you 4 different theme options to add color to your gaming experience. We can put them in order as follows: Tranquility, Underwater, Autumn Glade, and Cosmos.
Each theme has its own board and tile set design. Choose the one that appeals to you, and keep playing in different environments! You can find the "Themes" section by scrolling down from the main menu.
Engaging with Daily Challenges
There is an area where you can complete daily tasks to earn a monthly bandage at the end of the month. When you come to the "Daily Challenge" section from the main menu, you will see 5 different game options. We will provide brief descriptions of each below for your convenience.
Golden Tiles:

Among the scattered mahjong tiles are three pairs of golden stoneware. You need to locate and pair them.

Lightning Tiles:

There are four pairings of Lightning among the mahjong tiles in the lightning. Before they get to zero, you have to find and match them. The values of the stonewares drop by 1 with each move.

Match Attack:

In Match Attack, you must complete 46 matches in 3 minutes and 10 seconds.

Score Attack:

Similar to Match Attack, you must make 2400 points in 3 minutes and 10 seconds in Score Attack.

Classic:

Classic mode, in its simplest form, consists of eliminating all tiles on the board.
Controls
Simply use your mouse to click matching tiles.
Discover Other Microsoft Games
OnlineGames.io also has other carefully selected Microsoft games for you. You can take a look at them too.
Microsoft Solitaire Collection:

The top five solitaire card games can be found in one place thanks to a computer game called the Microsoft Solitaire Collection: Klondike, Spider, FreeCell, Pyramid, and TriPeaks solitaires.

Microsoft Ultimate Word Game:

Wordament, Word Twister, and Crossword are the three unique gameplay modes found in Microsoft Ultimate Word Games. Select your preferred category of word games and get started!

Microsoft Jigsaw:

Explore a variety of intriguing jigsaw puzzle sets, each with its own themes and challenges. Select one of them, choose your degree of difficulty, and begin piecing the puzzle pieces together.