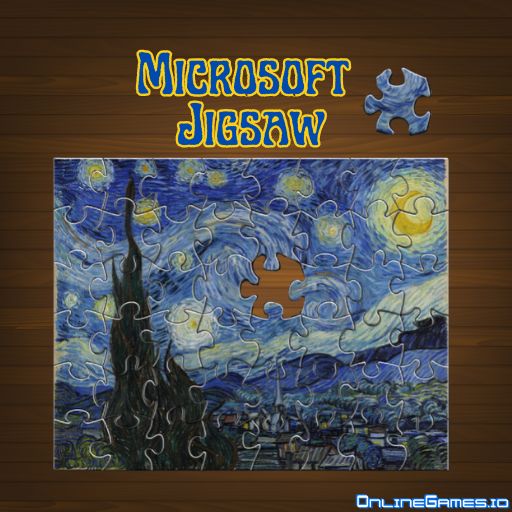 Let's take classic puzzle lovers here because this game is for them the most! Microsoft Jigsaw is a jigsaw puzzle game that Microsoft created in 2014.  Since then, The puzzles have attracted thousands of players around the world, making the game a classic in its genre. Discover various fascinating jigsaw collections, each with unique themes and difficulties. Choose one of them, set your difficulty level and start to put puzzle pieces together. The stress of missing puzzle parts can be put to rest with Microsoft Jigsaw, which offers a seamless and comprehensive digital puzzle-solving experience.
How to Play Microsoft Jigsaw?
Microsoft Jigsaw is a digital version of the classic puzzle game. One of the most significant advantages of playing this game is that you no longer have to deal with missing puzzle pieces. It also saves you from the hassle of buying forty different puzzles. It is possible to find puzzles from every category; there are 2264 puzzles here. Choose one and get started!
Microsoft Jigsaw Puzzle Collections
You can look at the puzzle collections recommended for you from the main menu or find the jigsaw puzzle theme that appeals to you by searching for a category from the search corner.
Setting Difficulty Level
After you decide which puzzle theme to tackle, you should determine your difficulty level. You have the option of making 24-piece, 54-piece and 96-piece puzzles. Decide which difficulty level you want to play on and start!
Icons at the Top Screen
There are some buttons on the game screen that can help you while combining puzzle pieces. You can press the "eye" icon to see the completed picture, the "padlock" icon to lock the view, and the "arrange" icon to mix the puzzle pieces.
Our Favorite Puzzle Theme
We love the paintings collection the most. Engage yourself in the brilliance of our favorite category – the paintings collection, featuring masterpieces from renowned artists like Vincent Van Gogh and Albert Bierstadt.
FAQ
Is Microsoft Jigsaw puzzle free?
Yes, playing the Microsoft Jigsaw puzzle is free, and you do not need to download anything. All you have to do is go to OnlineGames.io and enter the game.
Are jigsaw puzzles good for your brain?
One of the best ways to pass the time is jigsaw puzzles. Microsoft Jigsaw increases your concentration ability and helps you develop problem-solving skills. Additionally, it strengthens your memory and reduces your stress level.
Controls
Use your mouse button to click and drag puzzle pieces to the desired area.
More Puzzles
If you enjoy games like Microsoft Jigsaw, you may try Microsoft Ultimate Word Game. This is a word puzzle game where you need to use your vocabulary knowledge most. Alternatively, you can look up other online puzzle games on OnlineGames.io for further options. Share your thoughts and wishlist in the comments below – we'd love to hear from fellow puzzle enthusiasts!