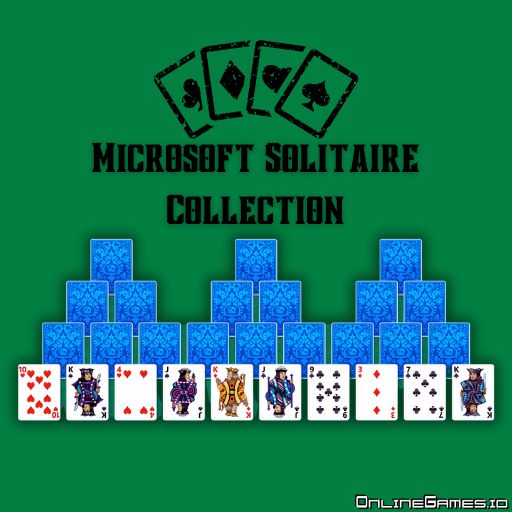 Have you heard of Microsoft Solitaire from your grandparents before? Yes, you did! A computer video game called Microsoft Solitaire Collection gathers the 5 best solitaire card games under one roof. Now, you can access them for free on OnlineGames.io via your web browser. It is straightforward and effortless!
What games are there in Microsoft Solitaire Collection?
Microsoft Solitaire Collection has compiled all five significant forms of solitaire card games:
Klondike Solitaire

Spider Solitaire 

FreeCell Solitaire

Pyramid Solitaire

TriPeaks Solitaire
P.S.: TriPeaks Solitaire
allows you to set the game's difficulty level.
How to play Solitaire Card Games?
In a deck, there are 52 cards, which are split into 4 suits named as clubs (♣️), diamonds (♦️), hearts (♥️), and spades (♠️). In each suit, the card order needs to be King, Queen, Jack, 10, 9, 8, 7, 6, 5, 4, 3, 2 and Ace. You can find below the 5 major solitaire games. Each has its own rules and goals.
Klondike Solitaire:

You must move every card to one of the four goals in Klondike Solitaire to succeed. In Klondike, four suit piles serve as foundations. You must arrange the cards from Ace to King hierarchically. Each foundation can hold just one type of card suit. 

Spider Solitaire:

In Spider Solitaire, the goal is to line up the 13 cards of the same suit descending from King to Ace. These 13 cards will be off the game when you complete the suit. By lining up all the eight foundations, you can win the game.

FreeCell Solitaire:

The goal of this game is to gather all of the cards from each of the four suits (Hearts, Spades, Diamonds, and Clubs) onto your foundation piles, each of which can only hold one suit. The cards must be arranged in ascending order.

Pyramid Solitaire:

Pyramid Solitaire requires you to eliminate the exposed cards totaling up to 13 by tapping any two cards. For example, you can discard card no. 5 and card no. 8 in the front line. You can not tap the unexposed cards that fall behind any other card.

TriPeaks Solitaire:

Tripeaks Solitaire aims to move every facing-up card from the peaks to the waste pile. This is performed by revealing cards from the peaks that are one number higher or lower than the current card in the waste pile. When you have wiped off all three peaks, the game is ended.
Daily Challenges
In addition to all these 5 solitaire card games, the Microsoft Solitaire Collection gives you a daily challenge for each. Card, scoring, and solution challenges are the many types of challenges. Each challenge is linked with a determined difficulty level and will give you a specific reward. You can see your monthly progress under the challenge schedule.
Star Club
To gain stars and access the newest challenge packs and collections, complete the challenges in Star Club. Try to finish them all.
Themes
Microsoft Solitaire Collection offers you customization choices. From the Microsoft Solitaire Collection's Themes section, you can give the game the shape you desire to make it more fun. You have seven options: 
Classic

Aquarium

Fable

Western

Beach

Autumn

Jumbo
Similar Games
Look for Board Games, and Strategy Games tags on OnlineGames.io to find additional games if you love playing the Microsoft Solitaire Collection.