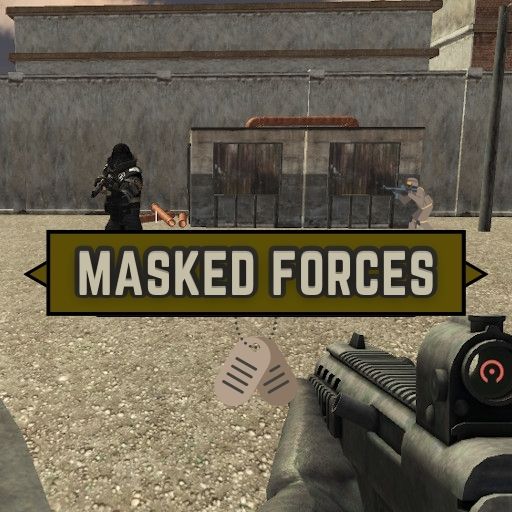 Masked Forces is the perfect game for shooter fans. Prepare yourself with the best weapons and enter the battlefield. Create your own strategy and start shooting the opponents. The armor will help you protect your body from the bullets. Make sure you win every battle and become victorious before anyone else.
Before you start the battles, you get the opportunity to equip the soldier in the weapons and armor section.
Weapons of Masked Forces
Purchase or upgrade your weapons in the weapon menu. They will be unlocked as you progress through the game. A classic Deagle or heavier weapons such as Thompson SMG and HMG. You can even pick a grenade.
Armors of Masked Forces
A good armor will protect you from enemies' bullet attacks. Ensure you are well protected by buying a new one or upgrading the one you have. Select between Watchdog, Hellbound, Vanquisher and many more armors. 
Daily Rewards
Masked Forces also has a daily reward feature that gifts players cash and XP every 24 hours, 
As you level up, you get more cash rewards. Remember to come back every day and claim yours.
Masked Forces Gameplay
The gameplay is intense as players are deployed into a map to battle, and the player with the highest number of kills wins the match. You never know when your opponents may come, so keep moving, aim cautiously, and be vigilant. While playing, you get to check your kill feed, HP, ammo and radar on your screen. 
A special feature in the gameplay is the ability to pick up enemies' weapons after knockdown.
In this mode, you are offered a variety of missions with different objectives. In level 1, you have 3 active tasks to choose from.
Mission 1 is to win a death match; in this mission, 6 players are deployed to battle, and the first player with 15 kills wins the game.
Mission 2 is to eliminate 3 enemies; in this mission, your objective is to eliminate 3 enemies to pass the mission. However, if your player kills 2 enemies and gets knocked down, you must restart the mission. So ensure you get that 3-kill streak to complete the task.
Mission 3 is to survive for 50 seconds; in this mission, you have to survive for 50 seconds, and the player's movement and speed are reduced. To survive, either you take down your enemies, or you find cover for 50 seconds.
Rewards for completion are $250 and 1000 XP each.
In level 2, the active missions are pretty the same, only that some active tasks are still level 1 difficulty with the same cash and XP reward. But level 2 difficulty has a cash price of $300 and 1100 XP.
Masked Forces Level 2 active missions are:
Win a death match (level 1 difficulty)

Eliminate 3 enemies (level 1 difficulty)

Win a death match (level 2 difficulty)
Masked Forces Level 3 active missions are:
Win a death match (level 3 difficulty)

Eliminate 3 enemies (level 1 difficulty)

Survive for 50 seconds (level 1 difficulty)
There are several fascinating missions and objectives to enjoy in this game, providing you with a realistic sense of being on the battlefield.
Online PvP Mode
In online PvP mode, a player can choose to create a room or join an existing one. When creating a room, you get to choose the level and mode to play from.
Controls
WASD to move

T to chat

R to reload

P to pause

C to crouch

Space to Jump

Left mouse click to fire

Mouse scroll to change weapons
Features
Different Game Modes: FFA (Free For All), Team Deathmatch and Doomsday

5 giant maps to discover: Factory, Bastion, Barricade, Blockade, Freedom

Awesome weapon and armor selection with upgrade options

Multiplayer mode in private or public rooms
What is Masked Forces?
Masked Forces is a 3D online FPS game that can be played on your browser without downloading. The game has great excellent mechanics and visual graphics. Start having fun by playing Masked Forces on OnlineGames.io.
Can I play Masked Forces with my friends?
Yes, you can play Masked Forces with your friends. Create a room of your own and start the battle.
If you liked Masked Forces, great news for you. The game is a part of a game series. Try out one or all of the following with at least the same taste as Masked Forces.