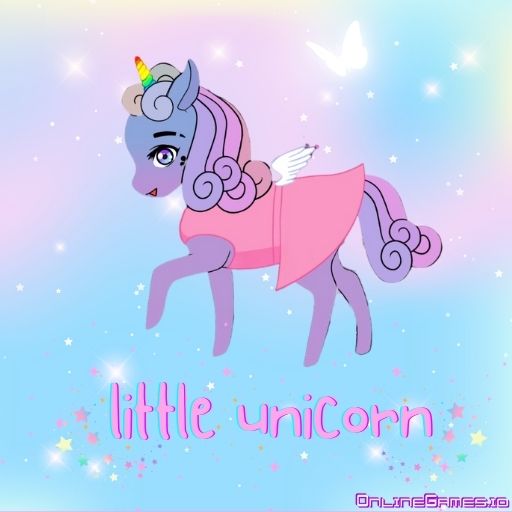 Little Unicorn is a creative girl game where the player creates their unicorn according to their own desire. The game has a customizable unicorn that can be created from scratch. You may design your perfect unicorn by combining and matching various aspects such as skin color, horns, and animated characteristics. It also promotes creativity in creating unique and wonderful creatures. Start to play one of the best unicorn games with a simple click!
How to Play Little Unicorn
When you press the "Play" button, you can now create your unicorn according to your own taste. You have lots and lots of customization options here. You can choose your unicorn's skin color, shape its horns, dress it in the best clothes and even determine its facial expression. All you have to do is click on the plus symbol at the bottom left of the menu.
Skin, Hair, Horn and Tail
Start by determining her skin tone. Because all the other customization moves you make can be determined by the unicorn's skin color. You can even give her a brushlight effect if you want.

Choose her hairstyle and color. Again, you have a very wide color range here. You can also adjust the intonations according to your desire.

After selecting the hairstyle, you can also determine a suitable tail shape.

A unicorn without a horn is always missing. Pick a sweet horn for her.
Eye, Eyebrow and Mouth
You'll find many eye shapes and colors here. You can even give your unicorn an almond eye shape.

Thin, thick, cut eyebrow shapes. They look like human eyebrows, right? Choose one of these for her.

You can put a naughty smile on her face or make her smile 32 teeth!
Outfits and Accessories
In the final sections, you will find more clothes, costumes, skirts and accessories than you can imagine. Make the best combinations for her by showing your unique style. You can open some of the options offered to you by watching advertisements. You already have enough options, but if you want more, they're all at your fingertips.
Controls
Simply use your mouse click to create your beloved unicorn.
More Games Like This
If you love unicorn games, we also highly recommend Unicorn Beauty Salon. In the online dress-up game Unicorn Beauty Salon, the player assumes the role of a unicorn hairdresser. The wonderful unicorn will be ready by the player, who will begin by applying makeup, and selecting blush and eyelashes. For more options, look for other girl games on OnlineGames.io.
Contact
Do you have any inquiries or problems regarding the games? You can contact us via email.