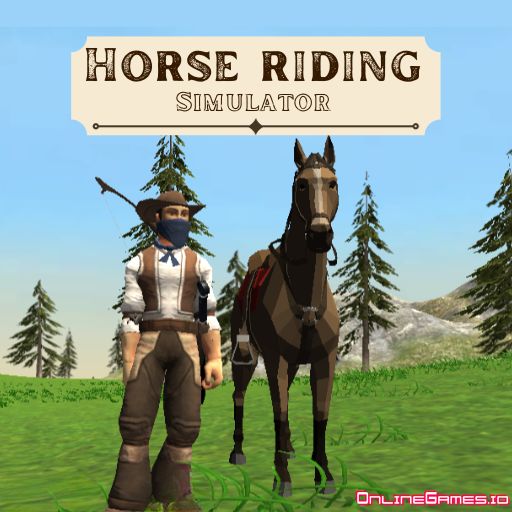 Are you ready to tour the West with your beloved horse? Horse Riding Simulator is a 3D horse simulator game where you set out on a horse and fight your enemies who will attack you for no reason along the way. They will mostly be zombies. Get on your horse, equip your weapons and try to survive in the Wild West! This will be the most enthusing horse game you will ever play.
How to Play Horse Riding Simulator
You can start by choosing which location you want to use your horse in: you have two map options.

The first map is a waterside, while the second map is the side of a hill.

When you choose your map and start the game, you will see horses lined up side by side.

These are horses of different types and colors. You have the freedom to choose whatever you want and hit the road.
Shooting the Zombies
You can only shoot zombies while on your horse. You can't fight them when you dismount. Therefore, getting off your horse makes you defenseless. You have 3 different weapon choices: a bow, a sword and a gun. However, since your gun's ammunition is low, we recommend that you use it only in the most difficult moments.
Weapons in Horse Riding Simulator
We briefly talked about weapons in the section above, but we wanted to go into a little more detail here.

It might be wiser for the cowboy to use the bow specifically to target zombies coming from a distance.

The sword is more suitable for close-range combat.

You can also use the gun when the zombies are relatively far away, but remember that its range is limited.
Choosing Your Horse
There are five unique horses, which range from brown to black. You can even find a horse made of legos here. Choose the horse that appeals to you the most and jump on it. Enjoy the Wild West together. But be careful of what you encounter on the road!
Controls
Use the WASD or the Arrow keys to move your cowboy.

Use the 1, 2 and 3 number keys to change your weapon.

Press the F key to mount or dismount.

Press the Space key to jump.

Use the L shift to sprint.

Press the right mouse button to aim.

Press the left mouse button to shoot.

Use the Tab key to get back to the main menu.
Similar Games
You could also try Bandits Multiplayer PvP if you want to ride horses in the Wild West. As a deadly bandit, you must battle zombies and other wild bandits in order to survive in this game. You can view further opportunities by checking out other free action games on OnlineGames.io by tapping the provided link. Stay in touch. Our platform will always have new thrilling games for you!