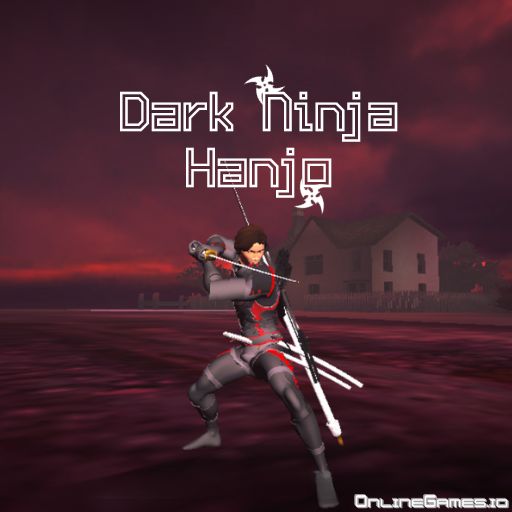 The city was destroyed. Dark Ninja Hanjo is an adventure game where you explore and try to recover this ruined city. But it will take a lot of work. You need to recover the ancient scroll first to be able to make it happen. You must follow the clues, complete the missions and fight enemies when necessary.
How to Play Dark Ninja Hanjo?
Click on the "Play" pane from the main menu and proceed to the level selection section. There are 15 levels taking place in deserted areas. Then, start the game by choosing the level you want to play.
Following the Sensei's Instructions
Sensei will guide you along this path. He will send you to the destroyed city to find out what happened. He warns you to be aware of your surroundings because you never know what will happen in this deserted city.
Purple Beams
Following Sensei's instructions, you will encounter very high purple beams. Sensei will ask you to investigate these. The enemies cast spells to extract the scrolls. These purple beams belong to those spells. You have to stop the Extractor from extracting the scrolls.
Free the Mythical Phoenix
The enemies captured the soul core of the Mythical Phoenix. You need to get it back. To do this, you need to destroy 2 UzunaWolf. This will be a challenging war.
Store
Suppose you want to change your character's appearance and weapons or buy ammunition and energy. In that case, you can personalize your character and game by clicking on the "Store" section from the main menu. Especially, purchasing ammunition from here that you can attack from a distance, such as Shurikens, will make your job much easier on some levels.
Characters
Heavenly Wolf

Flash Hayate

Demon Tsukana

Shinobi Ashura
Weapons
Katanas

Dual Katanas

Fists

Arrow Bow

Spear
Controls
Use the WASD or the arrow keys to move

Use the Space key to jump

Use the Left mouse button to attack

Use the Right mouse button to use the projectile

Use the R key to change the projectile

Use the X key to Special Move

Use the E key to change the weapon

Use the T key to change the power

Use the C key to change the camera view

Use the P key to pause
More Games Like This
Give a chance to Blocky Parkour Ninja, where you jump between blocks as a ninja, if you love playing ninja games. Or, you may look for other adventure and action games on OnlineGames.io for more alternatives.