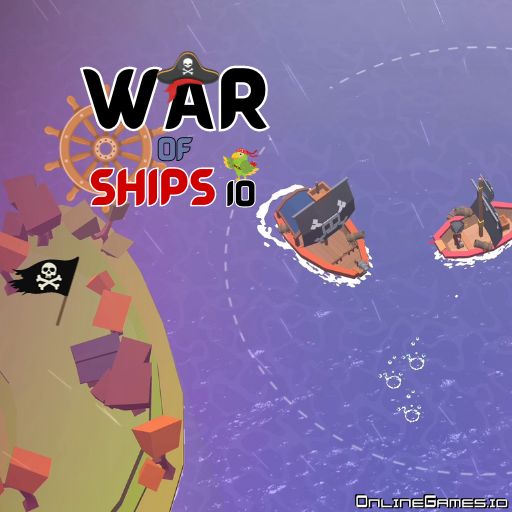 Dominate the open seas at the helm of your ship! War of Ships IO is a 3D pirate game where you steer your ship and try to avoid getting hit by other ships! Survival in this arena depends on your ability to navigate and strategically engage with other ships. You must also shoot your opponents while dodging the bullets that are trying to be thrown at you. Enjoy War of Ships IO, the best ship game you can play on your internet browser!
How to Play War of Ships IO?
Navigate your ship amidst a sea filled with adversaries. Your enemies will be sending bullets non-stop. You need to dodge these bullets. You also need to target them with your bullets. If your ship's durability decreases due to being exposed to too many bullets, use the boxes with the plus symbol on them that you will see on the playing field.
Sticks are automatically drawn when you face an opponent.

When an adversary is behind you, mines are set to activate automatically.
Shoot the Ships Down!
You will see another yellow bar below where you see the ship's health bar. When this place is full, you can now send bullets. Bullets can be sent automatically when you are near any ship, or you can send them yourself by pressing the Space key. You can turn off automatic shooting by pressing the "Auto-on" button next to the aim symbol in the lower right corner of the screen.
Ahoy Matey! Gather the Loot!
You will see loot floating on the sea. Collecting these boxes will help you level up. And each level-up unlocks a skill. You can increase movement speed, perform a double strike, or increase mobility and many more abilities.
Select Your Ship and Captain
You will earn money by being the person who manages to make it to the end of the game and wins. You can buy yourself a new captain figure and ship with these coins. You can see your options by entering the "Ships" or "Captain" sections from the main menu.
Controls
Use the WASD or the Arrow keys to steer your ship.

Use the Space key to shoot your enemies.
More Games Like These
Try out Starblast.io, another interesting io game, if you enjoy playing War of Ships IO. In the game Starblast.io, rocket ships engage in combat in intergalactic arenas. Alternatively, you can explore additional options for other battle games io on OnlineGames.io. Share your thoughts on this game in the comments section below!