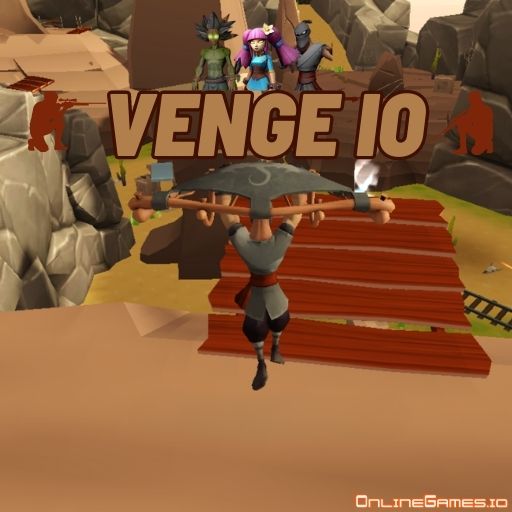 Venge io is a fun online shooting game with fast-paced and competitive gameplay. Be on full alert since Venge io is an FPS (first-person shooter) game. Enemies might approach stealthily from anywhere. Venge io offers hours of addictive playing thanks to its rich features, realistic sound effects, and smooth loading on your browser. Start the battle now with great weapons. Stay connected with your squad in the chat section. And remember to make your victory dance after eliminating rivals cruelly. Play Venge io for free without downloading on OnlineGames.io and put your name on the leaderboard.
Official Maps in Venge io
Sierra: The primary map with a compact design that is packed with action. To unlock new abilities, capture the flag point within a minute.
Tundra: Experience combat in the freezing winter of the Tundra map with the Arms Race mod enabled. This mode will switch your weapon after each successful kill.
Mistle: The largest map in Venge io. Perfect for team playing and sniping. In order to win in Mistle map, push the minecart towards your opponent's side.
Temple: Collect the blackcoins after eliminating enemies. Summon the coins to the temple after each kill.
SandStormBlitz: Ideal for snipers, especially in deathmatch mode.
Weapons
Scar

AK47

M4

Shotgun

Tec-9 (SMG)

Sniper

Light Machine Gun (LMG)

Desert Eagle (pistol)
Features
5 maps to explore

10 different parkour maps

play with your friends in private rooms

Sniper Game Mode

Customizable heroes

Various weapons and charms

Play with your fellow continentals by selecting between servers

Progress can be saved by registration
How to Play Venge io?
WASD - Move

Space Bar - Jump

LMB - Shoot

RMB or Shift - Aim Down Sight

Scroll Wheel - Switch Between Weapons

R - Reload

E - Melee attack

F - Throw Grenade

B - Buy

H - Dance

Enter - Chat

Escape - Leaderboards

Hold B - Turn Cards
How to Play with Friends in Venge io?
Click the "+Play with Friends" button in the bottom right of the screen. Copy the invitation link and send it to your friends to play together.
More Games Like Venge io
If you like FPS io games, we strongly suggest trying out any of these: