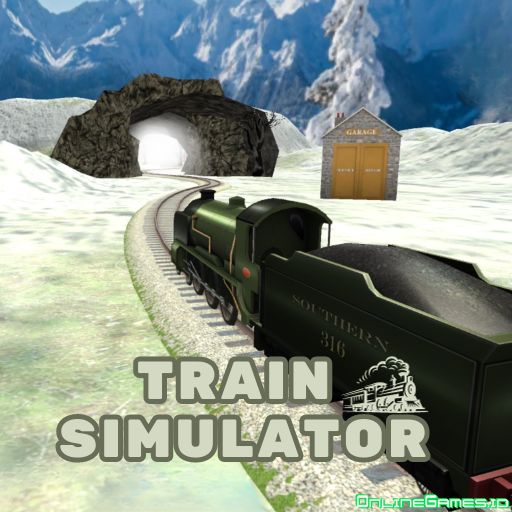 When you were a child, were you as curious about the train cockpit as we were? If you are passionate about trains, this game is perfect for you. Train Simulator is a 3D driving game where you become the conductor of a train. We need a skilled machinist, and that could be you. If you are ready, let's start driving!
How to Play Train Simulator?
Train Simulator offers two unique gaming experiences. You have the option to transport passengers or cargo with your train. The choice is yours. Before diving into the game, you can enhance your driving skills by selecting the "practice" option from the menu. If you feel confident, you can begin the game by choosing your preferred game mode:
Passengers Train:

Your primary task in the Passengers game mode is to pick up passengers from the station and safely deliver them to their destination station.

Cargo Train:

The Cargo game mode involves meeting logistics requirements. Some load needs to be delivered to specific locations, and you must transport them without causing any damage.
Suggestions
Trains are heavy and require time to slow down. When you approach your destination, make sure to position the train within the green zone without passing the "stop" sign. It is advisable to start slowing down before reaching this green area.
Sometimes, you may encounter animals, like lambs, on the tracks. We do not want to harm them, so you can use the horn by holding down the 'H' key to gently push them away from the tracks.
Occasionally, you will come across railway junctions leading in two different directions. Always follow the open path. When you reach a turning point, look for the blue "turn" icon on the right side of the game screen. Press the arrow key in the direction you need to head.
Controls
The game controls in Train Simulator are similar to those in other driving games:
Use the WASD keys or the Arrow keys to steer the train.

Use the 'H' key to sound the horn.
You May Also Like
If you enjoy playing Train Simulator, you might want to try our other free driving game, American Truck Car Driving. In this game, your mission is to deliver essential cargo to a designated destination using a truck. We recommend exploring the Driving Games and Simulator Games tags on OnlineGames.io for more free driving and simulation game options.