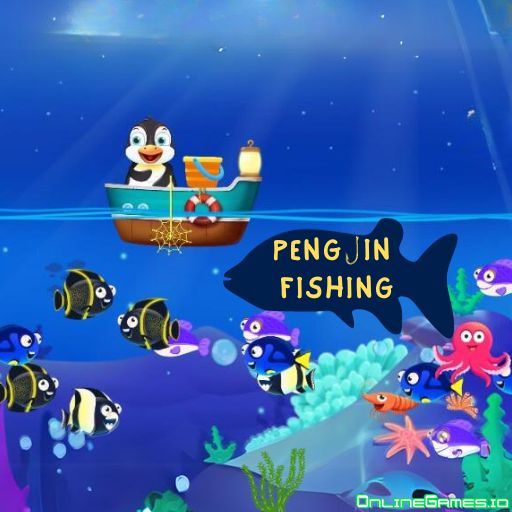 The little penguin is hungry! We need to feed him. Take your rod. We are going on a fishing adventure! We will learn about the underwater world, meet new marine animals and have lots of fun! Penguin Fishing is a 2D fishing game that is suitable for all ages, but especially for little fellas out there! You can play it on a browser on your tablet, phone or PC.
How to Play Penguin Fishing?
You have 2 options for fishing. Take the fishing rod or the net. Let's look at them more in depth.
Using the Fishing Rod
A fishing rod

 is a classic instrument for fishing and lets you catch only one fish at one cast.

You will use the rod at the beach. So, you can enjoy the view of clear underwater in daylight while using the fishing rod. 

While using the fishing rod, simply tap on the fish you'd like to catch. Be careful since they will be moving and swimming around.

Try to catch the chests. Chests are full of surprises, and you can find coins or extra time for your fishing adventure in them. 
Casting the Fishing Net
A fishing net can catch multiple fish at once. However, it brings less income than the fishing rod.

You can use the fishing net only with your boat at twilight.

To cast the net, tap on the area to cast the net. The net will catch all the fish in that area.

Suppose you choose the net instead of the rod. You should chase after chests again. But it is more likely to catch marine debris instead of valuable gifts while using the net.
Sea Creatures in Penguin Fishing
Some of these sea creatures may remind you of the lovely characters from the famous Pixar movie, Finding Nemo. Let's meet the ones you will see often in Penguin Fish.
Clownfish:

 Just like Nemo, huh? How cute is that?

Regal tang:

 A fishing game wouldn't be as enjoyable as it is without Dory. 

Pufferfish:

 Pufferfish get stressed when caught. They will bloat out in the fishing net.

Octopus:

 Here is the naughty boy. If you catch an octopus, he will squirt his ink all over the penguin. Better to avoid this one.

Starfish:

You can catch several starfish if you are lucky enough.

Sea Horse:

 Sea horses slide along and mind their own business. You will see them in later levels.

Shark:

When a shark passes by, the penguin will not be able to cast your rod or net. After all, no penguin would want to catch a shark, huh?
If you wonder what other sea animals you can see in Penguin Fishing, take a look at the book in the main menu. Some of them are as follows: French Angelfish, Moorish Idol, Mantis Shrimp, Lion Fish, Juvenile Emperor, Angelfish, Mandarinfish, Tuna, Triggerfish, Blueface Angel Fish, Banggai Cardinalfish, Yellow Tang, Yellow Longnose Butterfly Fish, Fantail Goldfish.
Controls
Tap or click on the fish to catch
Explore Games Like Penguin Fishing
If you like the Penguin Fish, you can go on another fishing expedition in Tiny Fishing. Or, try other kids games by following the link. Keep coming back to play the newest free games on OnlineGames.io.