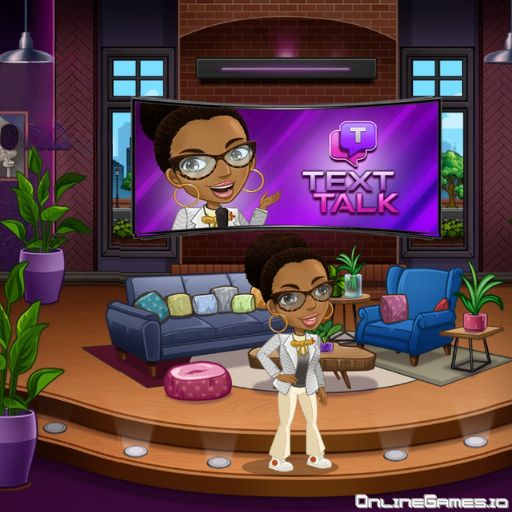 You are invited to the popular TV Show Text Talk! As you are the show's guest star, the host will challenge you to crisscross the text! She will give you several letters and ask you to reveal words. Text Talk is a mash-up of anagram-solving and crossword puzzles. This word game consists of over 200 puzzles, each sharpening your mind. The best of all, the host will give you daily rewards for checking in. So, why don't you make solving crossword puzzles a daily habit of yours? If you are ready, let's begin!
How to Play Text Talk?
You will be given a few letters to form words of them. 

You will see how many words are needed in the crossword puzzle at the right.

Fill the blanks in the crossword and complete the level. 

You will earn points as you find a valid word.

You may form some valid words that are not in the puzzle to earn bonus points.

There is no time limit, so you can take your time to complete a level.

Sound on while playing. The host will cheer you up when you find a word correctly.

As you advance through the levels, the number of letters given will increase.

You can shuffle letters. Word search is easier when the letters are in a different order.
Make Use of Hints
When you are stuck, you use a hint. 

A used hint will open a letter in the crossword for you.

You will be given 5 hints at the beginning.

If you'd like to buy more, use your points or watch an ad.
In Which Language Can I Play Text Talk?
Text Talk, the unique word puzzle, is available in English only. Don't worry if English isn't your first language. Playing Text Talk can be a fun and educational way to improve your vocabulary skills.
Controls
You can use your keyboard or tap on the letters to type words.
More Word Puzzles
Bookworms outperform in word search games. So, if Text Talk is easy for you, play Microsoft Ultimate Word Games to challenge yourself. Take a look at all the free online Puzzle Games by following the link. We are sure you will find a title you love.
We'd like to hear your insights! Rate this game and tell us in the comments if you love this game. You can also contact us directly if you encounter any issues.