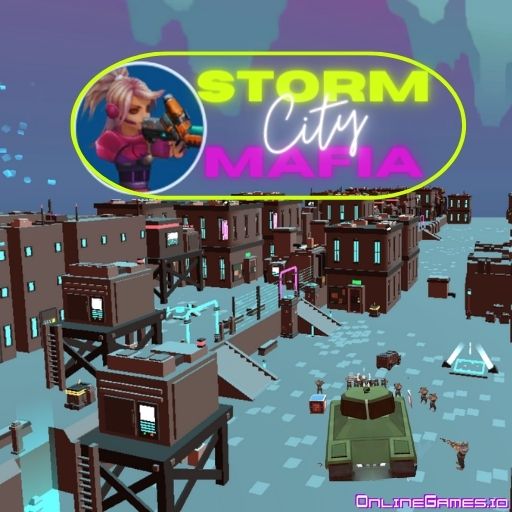 Welcome to the world of cyberpunk! Storm City Mafia is a themed mafia game with many missions. Each task must be accomplished successfully. You are the key in this cyber world. It is your primary mission to defeat the enemies. But be careful because they are much more than you. Make each of them, including the big boss, history using your strategy skills!
How to Play Storm City Mafia
In the game Storm City Mafia, you advance by finishing objectives. There are thirty missions to complete, each requiring you to carry out distinct tasks. The goal of the first mission is to take out 100 adversaries. The next mission becomes available once each assignment has been completed satisfactorily. And you're in for a different kind of obligation. At the end of the thirty-episode story, you defeat the Big Boss.
Power-ups in Storm City Mafia
You can open the section with power-ups by clicking on the label icon from the main menu. You need to save money by collecting the money dropped by the enemies you eliminate in the games, and the best place to use them is power-ups. We have compiled a few of the best power-ups for you below.
Godmode:

You can not die when god mode is activated.

Jetpack:

Fly over the whole city with your jetpack without the need for a car.

Golden Gun:

Reflect the splendor of gold on your weapon.

Unlimited Grenade Ammo:

Your grenades will never ever run out.

Vehicle Generator:

Use the number keys between 0 and 9 to land the vehicle you want on the street.
Master the Controls
Use your Mouse to aim

Use the WASD keys or the Arrow keys to move

Use the Space key or the J key to jump

Use the Left Mouse button or the Z key to fire

Use the X key to throw a grenade

Use the Left Shift or the C key to activate Hammer Time

Use the Mouse wheel or Q or E keys to cycle weapons

Use the Enter key to enter the vehicle

Use ESC or the P key to pause the game

Use the M key to mute the audio toggle
Games Similar to Storm City Mafia
Mob City is a game similar to Storm City Mafia. If you enjoy playing this game, you will absolutely like Mob City, where you wage war on bad guys in the city. You may also look for our shooting game collections on OnlineGames.io for more game alternatives. Don't forget to bookmark this website to be able to visit again easily!