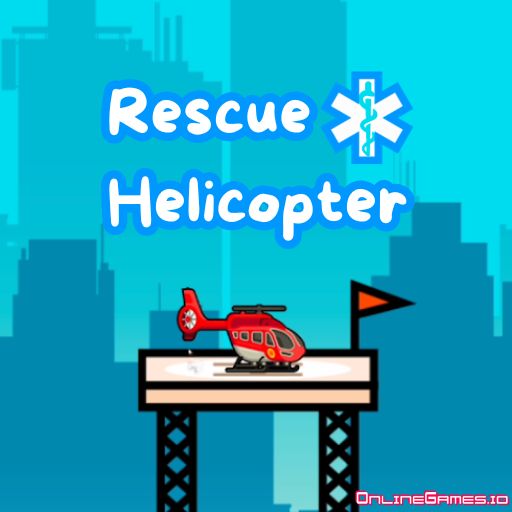 Are you ready to be a hero? People trapped on the roof need you! You are the only one who can operate the helicopter and have to save them with the helicopter's rope. Rescue Helicopter is a 2D helicopter game where you drive a helicopter and rescue people. You need to land them safely in a safe place. If you achieve this, you win the game. ​​Let's start to experience the thrill of piloting a rescue helicopter!
How to Play Rescue Helicopter
Treat this game like an ambulance game. Drive the helicopter in a controlled manner, slowly approach the person you need to save and hit them with the rope. When they catch the rope, they will climb towards the helicopter. Then, take those you rescued safely to the finish point and reunite them with their families. Remember that not every hero has a cape. Some only have rope.
Open your web browser and search for OnlineGames.io

Enter the site

Search for Rescue Helicopter in the search bar

Tap to the game and start to play
Flying the Helicopter
While flying the helicopter, you must not come into contact with any walls; otherwise, the helicopter will explode.

Take people into the helicopter by expertly gliding on the platform. But if you fly too high for humans to catch the rope, you will fail to get them on board. Make sure they can grab the rope.

Likewise, when landing them on the field, you need to center the runway precisely; otherwise, the helicopter will continue moving forward and hit the wall.
Is Rescue Helicopter Free to Play?
Yes, Rescue Helicopter is a free online rescue game you can play on your web browser without downloading files. You can access the game from your mobile phone, desktop, tablet and Chromebook if you have a stable internet connection.
Controls
Direct the helicopter by clicking your mouse and take people needing rescue to the helicopter.
Discover Other Games
If you like playing Rescue Helicopter, you may try City Ambulance Driver and keep rescuing people. Or else play Airplane Racer, where you try to steer a plane and race with other users. For more games, you can look for other flying games with various vehicle selection options on Airplane Tag.