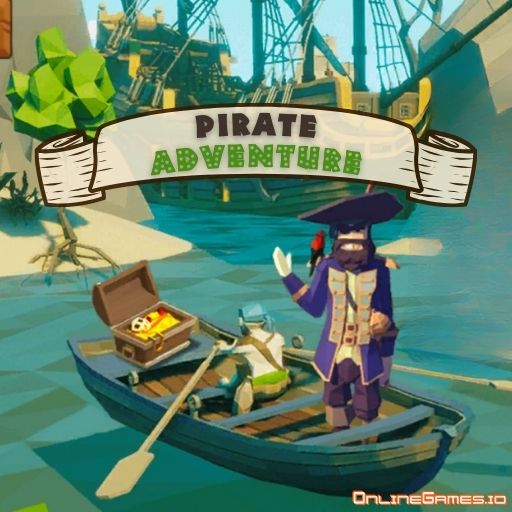 Are you ready to be the Jack Sparrow of virtual world? Pirate Adventure is a 3D adventure game where you land on an island and try to find Cristopher's lost treasure. But in order to do this, you must meet Blackbeard's requirements. He will guide you to riddles that no one has ever known before. You need to answer these one by one. You will absolutely love this pirate game!
How to Play Pirate Adventure
Embark on an epic treasure hunt in Pirate Adventure, where you take on the role of a modern-day Jack Sparrow! You need to help Christopher find his treasure on the island. But finding the treasure won't be that easy. First of all, you need to strengthen your communication with the locals of the island. You have to earn their trust, especially the Blackbeard's trust. He's one of the key people on the island, and he can help you find your treasure. Go to him and solve his riddles. This is the surest way to gain his trust!
Solving the Riddles
Blackbeard's riddles are based on some basic mathematical equations. In fact, you can easily solve all of them by reasoning. There will be people on this island who can teach you a lot. Find them and complete the tasks they give you, and in return, they will give you the formulas to solve Blackbeard's riddles!
Map Pieces
As you solve the Blackbeard's riddles, you will obtain pieces of the map. You can see how many total riddles you have solved in the upper right corner of the screen. When you solve them all, you will have completed a map, and this map will lead you to your lost treasure.
Controls
Use the WASD keys or the Arrow keys to move the Cristopher.

Use the E key to get in contact with the natives of the island.
Discover Other Games
Try Dark Ninja Hanjo, where you try to recover the ancient scroll to be able to rescue the ruined city if you like playing Pirate Adventure. Or you can look for other online adventure games on OnlineGames.io for further options by following the link. Tell us about your gaming experience in the comment section below!