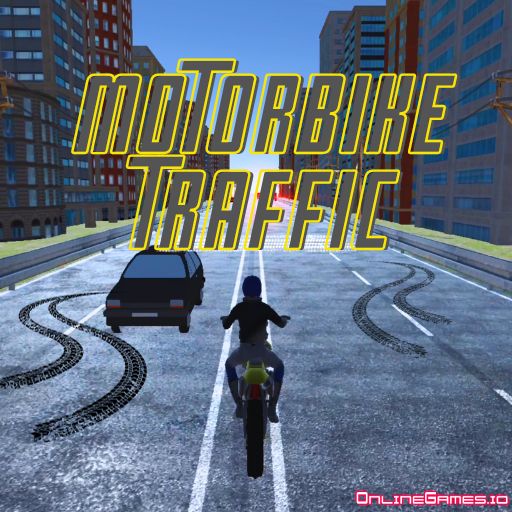 Are you ready for a motorcycle tour on the highway? It is time to glide between the cars with your motorcycle in the flowing traffic. Motorbike Traffic is a racing game where you collect points by blowing off someone's vehicle's doors. Pass cars, collect coins and unlock the new police motorbike.
How to Play Motorbike Traffic?
We all know how boring traffic is in crowded cities. That is why motorbikes are generally a more logical and enjoyable option. Select the motorbike you want from the menu. You will see 3 motorcycles there. You need to earn money to buy the last one, the police motorbike. You can get it when you complete $5,000. After choosing your car, you can decide which game modes you want to play. Click on the mode and start to glide through the highway!
Motorbikes and Upgrading
You have 3 different vehicle options in Motorbike Traffic. Two of them are accessible to you from the beginning. Still, to get the police motorbike, you need to collect money. The more you score, the more money you earn. Additionally, you have the option to strengthen your vehicles. When you hover over the motorbikes from the menu, you will see bars showing their speed, handling and brake powers. You can open the upgrade tab and perform your upgrades by clicking on the gear wheel icon.
Game Modes
Motorbike Traffic offers you 4 game modes that you can enjoy freely. Each one of them comes with unique game experiences.
One Way:

The cars are traveling in only one direction, with no regard for approaching traffic. The basic version of the game.

Two Way:

Vehicles can travel in either direction thanks to the two-way mode. It's more dangerous than the one-way, but you get more coins if you drive the wrong way.

Time Attack:

You are given a limited time in the Time Attack mode. Pass as many vehicles as possible within the given time without an accident.

Speed Bomb:

You actually drive a bus, not a motorcycle, in the Speed Bomb mode. If you drive the bus below a specific speed limit or collide with another vehicle, the bus will explode.
Stage Selection
After choosing the vehicle and game mode in which you want to play the game, it is time to decide what time of day you want to drive the motorbike. You can ride your motorcycle during the day or at night. This decision is up to you!
Controls
Use the WASD or the Arrow keys to steer the vehicle

Use the Spacebar key to use the handbrake

Use the L Shift to use Nitro

Use the C key to change the camera view

Use the ESC key to get back to the menu
Alike Games
If you enjoy the game Motorbike Traffic, you might also enjoy the car-driving simulation Highway Traffic. Visit free online bike games and driving games io pages for more game alternatives.