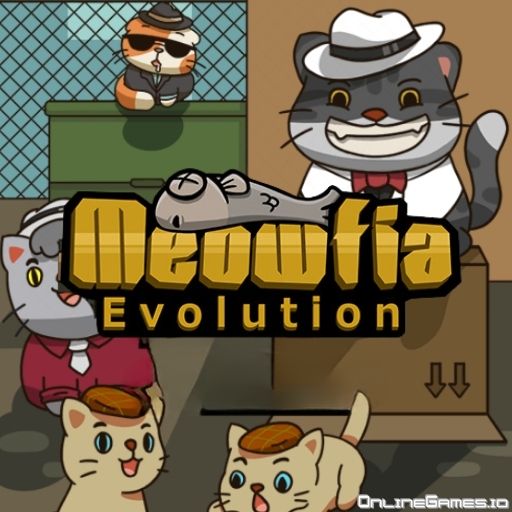 It seems strange to form a mafia out of cats, right? Meowfia Evolution Endless is a cat breeding game where you witness lots of cats emerging without limit. Except for one special breed: The Godpurrer! There can only be one Godpurrer. In this game, we will breed new cats by combining two of the same species. As cats evolve and multiply, a meowfia will form.
How to Play Meowfia Evolution?
The primary objective of Meowfia Evolution is to build a cat mafia by merging two cats of the same breed and evolving them.

A kitten will emerge when you open the bag that appears on the game screen. A new cat species will be created by bringing two kittens together and merging them.

You can monitor the timeline at the top of the game screen to know when the paper bag and fish will appear.

Feeding the cats with fish accelerates their digestion, resulting in quicker poop production. You can earn money by collecting those cat poops.

Additionally, you can purchase various upgrades that can make your task easier, such as speeding up the delivery of bags and fish, using magnets, and doubling your coin earnings.
Cat Breeds
There are 10 different cat breeds in Meowfia Evolution Endless. If you combine two cats from the cat type written above a line listed below, you will create the type of cat in that line.
Kitten:

The most innocent one among the cat breeds.

Piccicato:

A Meowfia member with its favorite food, tuna.

Scratchfella:

The hairless cat whose obsessiveness for fur licking resulted in that hair loss.

Meownion:

He may seem dangerous, but he enjoys having his belly caressed.

Furry de Niro:

A New Yorker. Be careful when approaching him.

Catsigliere:

Wears his glasses all the time so that it is not understood that he likes to sleep.

Al Pusscino:

Peanut butter is Al Pusscinato's favorite.

Capodikitty:

The quietest among the cats.

Catleone:

Authoritative but prone to getting lost.

The Godpurrer: This is the ultimate cat in the Meowfia. There is nothing bigger than that.
Controls
Use the left button of your mouse, hold the kittens and integrate them with each other.
Similar Games
Try Cat Simulator, where you unlock new cat species by gaining coins, if you like playing Meowfia Evolution. Or, you may try our other free crazy games on OnlineGames.io.