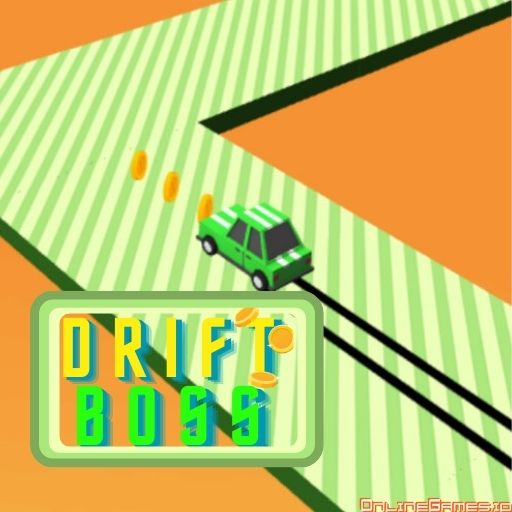 Say hi to an easily controlled and captivating game! Drift Boss makes such a deep addiction that you will be surprised how simple mechanics make this possible. Drift Boss is an online browser game where you drive your little car over curves and sharp bends. The aim is to go as long as possible without falling into space. You need to press the spacebar or left click to turn right and release the control to turn left. The path you drive on has no ends, so it means you set your own goals. Beat your highest score, or challenge your friends and be the boss of drifting!
Features
Easy controls and simple mechanics

Daily rewards and spin wins

Different boosters available

Range of vehicles to unlock

Mobile friendly
How to Play Drift Boss?
Desktop: Press space or left click to turn right, release to steer left
Mobile: Touch and hold the screen to turn right, and release it to turn left
What boosters are available in Drift Boss?
Three kinds of boosters are available in Drift Boss: Double score, car insurance, and coin rush. You can activate the boosters for only one run, and they will make your run easier for a while. You need to set the booster before driving.
Car Insurance:

This booster will insure your car for one fall in a run. If you fall into space, you can continue where you left by using your insurance.

Double Score:

 This will double your score through the run.

Coin Rush: 

This booster will make your roads full of coins. This one is great if you are considering buying a new vehicle.
How do I earn boosters in Drift Boss?
If you are out of boosters, you can get them by buying with your coins, turning the spin wheel and crossing your fingers for it🤞, or getting back tomorrow to take your daily prize🎁.
What are some tips for Drift Boss?
Here are the tips and tricks for Drift Boss:
Are you frustrated falling down over and over? Try to buy a new vehicle; more expensive cars have better grip. Then, you will enjoy a longer ride without thinking about the sliding distance.

You can turn your car on the air if you come across a bend right after jumping.

Don't steer too early. Wait until when you are close to the bend, then make your turn.

Remember to get your daily rewards and practice. You will soon be an Ultimate Drift Boss!
Similar Games
Fan of drifting games? We have the finest selection of Drift Games. Try them out, and let us know your opinions in the comments.