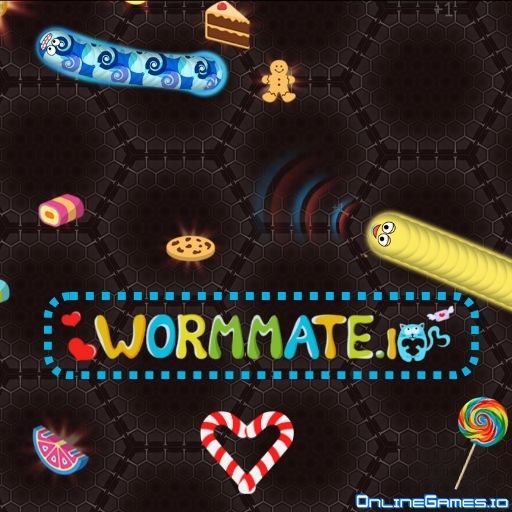 Are you ready to join the colorful world of reptiles? Wormmate.io is an arcade game with vivid graphics that you can play with other players on OnlineGames.io. You are born as a little worm, and your duty is to be a bigger boy! Eat your candles and grow your size. Be careful not to contact other big boys! They may smash you…
How to play Wormmate.io?
Playing Wormmate.io is very simple. Move your cursor and steer your worm. You can play as a guest or sign in for a more developed gaming experience. Plus, you have more than 30 variant outfits for your worm, but to unlock them, you are kindly asked to share the game on social media.
Game Modes
There are 2 different game modes in Wormmate.io: Arena and 2 Teams.
In the Arena, you are all on your own. It is a very competitive environment. Try to evolve as much as possible without being smashed by any other player.

In the 2 Teams, you are playing as teams. The Blue Team and Red Team are playing against each other.
Tips and Tricks
There are different methods to enhance your ability to enjoy the game. The following are recommended:
When you are big enough, you have the advantage of circling the little worms and trapping them. Use this.

When a worm is crushed, it drops all the candies it eats. When someone bumps into you, do not forget to take their candy. This is one of the most effective ways to grow fast.

There are power-ups that you can use while playing. Make it easy for you to grow by using them.
Power-Ups
Use power-ups effectively because you have a short time (from 10 to 40 seconds) to use them. Each one of the power-ups has different qualities.
Magnet:

Magnet helps you to draw foods from a great distance.

Lock:

Lock provides you a great deal of candies.

Crisscross:

Crisscross helps you take sharper maneuvers.

Speed Boost:

Speed Boost makes you move faster.

Magnifying Glass:

Magnifying Glass zooms the viewfinder out for better visibility.

Question Mark:

Question Mark provides you with casual power-ups.

Multiplier:

Multipliers increase the nourishment the food delivers (2x, 5x, or 10x).
Similar Games
If you like playing Wormmate.io, there are many similar games available. On OnlineGames.io, you can try one of the following games: